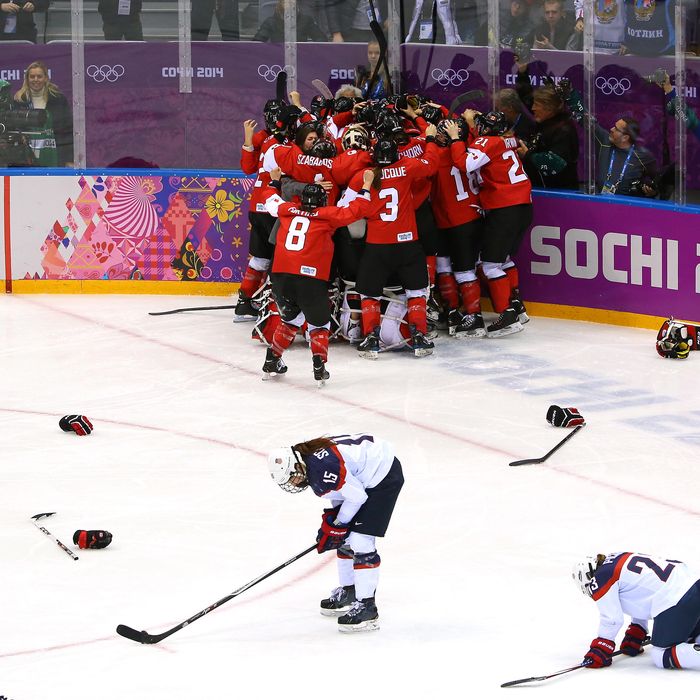 The scene after Marie-Philip Poulin's gold-medal winning goal.
Photo: Doug Pensinger/Getty Images
The United States women's hockey team was seconds from winning a gold medal in Sochi today, protecting a two-goal lead with under 3:30 remaining in the third period against Canada, then clinging to a one-goal lead as they lined up for a face-off in their own zone with 1:35 remaining. Or to look at it another way, they were inches away from securing gold: Seconds after that face-off, an American shot at the empty Canadian from their own blue line slid down the ice and hit off the goal post. But Team Canada would score with 54.6 seconds remaining in regulation to tie the game, then go on to win gold on rare 5-on-3 overtime goal by Marie-Philip Poulin.
The United States and Canada have by far the best two women's national-hockey teams: They've combined to win every gold and all but one silver since women's hockey became an Olympic sport in 1998, and the rivalry between the two teams was the best one at these Olympics. But Canada had won each of the previous three gold medals heading into this game, and it appeared the U.S. was set to end that streak.
Even once the game reached overtime, there was the hope that the Americans would shake off the final minutes of regulation and finish Canada off as the teams skated four-on-four. They even started the extra period with a furious attack, but couldn't get a puck past Canadian goalie Shannon Szabados. Later, the Americans were awarded a power play — which would mean a 4-on-3 advantage with tons of ice on the larger Olympic rink — but they'd get called for a penalty of their own (possibly a make-up call from the ref) just seconds later.
Then, before that U.S. penalty expired, Hilary Knight took down Canadian Hayley Wickenheiser as she skated in alone towards American goalie Jessie Vitter. Knight somehow wasn't called for a penalty shot, but did get called for a penalty (which she later called "bogus"), and Poulin would score the golden goal during Canada's brief two-skater advantage. It was an incredible game — exactly the kind you'd hope these teams would play to decide the gold-medal winner — but if you were rooting for the Americans, the ending was hard to watch.
If you care about such things, the loss means President Obama owes Canadian Prime Minister Stephen Harper a case of beer, because what else would they wager on a hockey game? But another case of beer is on the line tomorrow, as the American and Canadian men's teams square off in a highly anticipated semifinal game. If performance so far in these Games is an indication of how things will go, we like Obama's chances of winning that one.