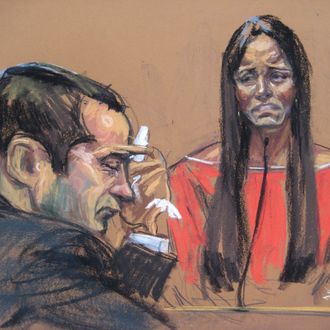 Photo: Jane Rosenburg /Reuters/Corbis
If there's one thing you shouldn't say to an undercover cop about another undercover cop, it's probably, "She deserves to die." So begins the trial of Christopher Asch and Michael Van Hise, Internet cohorts of "cannibal cop" Gilberto Valle. Assistant U.S. Attorney Brooke Cucinella used the prosecution's opening statement to paint an extremely vivid picture of Asch's plans for the unnamed female undercover agent, describing how he had brought a bag filled with "pliers, a mouth spreader, a leg spreader and a rope" to meet with another undercover officer to discuss her possible kidnapping. You know, a mouth spreader. Like someone might have in their bag for any number of reasons.
Meanwhile, Asch's lawyer Brian Waller quoted the Billy Joel song "Sometimes A Fantasy" in the defense's statement, saying of his client's interest in kidnapping and murder, "It's just a fantasy. It's not the real thing. But sometimes a fantasy is all you need." On a related note, honesty is such a lonely word.
Asch's defense team reportedly plans to stick to the same argument used by Valle's lawyers to fight charges of scheming to kidnap, torture, rape, and murder several people. "This case is all about intent. The government must peel back Mr. Asch's brain," Waller maintained. If so, there are probably a few things in that duffel bag they can borrow.