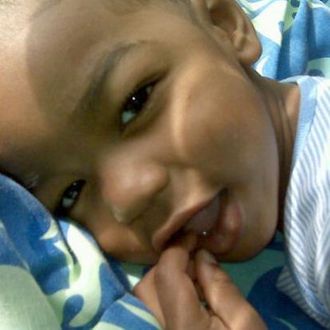 Kryzie King, the 27-year-old who was caring for 4-year-old Myls Dobson when he died in Manhattan last month, pleaded not guilty on Wednesday to twelve felony and misdemeanor charges, including including first-degree assault, first-degree reckless endangerment, and endangering the welfare of a child. Dobson was found unconscious in King's bathroom, and she claimed he fell from the counter after she briefly left the room. Police say she also admitted to "giving him corporal punishment," and more horrific details about the final weeks of Dobson's life were revealed at the arraignment.
Manhattan Assistant District Attorney Nicole Blumberg said that when King took custody of Dobson, he was "a happy, healthy and well-nourished little boy," but when police found him, "his lifeless body was bruised, burned and cut from head to toe."
The boy's cause of death has yet to be determined, but Blumberg told the judge, "all of the evidence suggests that Myls Dobson's death was caused by this defendant." The medical examiner said Dobson had injuries all over his body at multiple stages of healing, including distinct marks that match objects found in King's home.
Prosecutors said they are likely to charge King with murder when the investigation is complete, and the judge revoked her bail. King will undergo a psychiatric exam and is being held in the infirmary at Rikers Island.