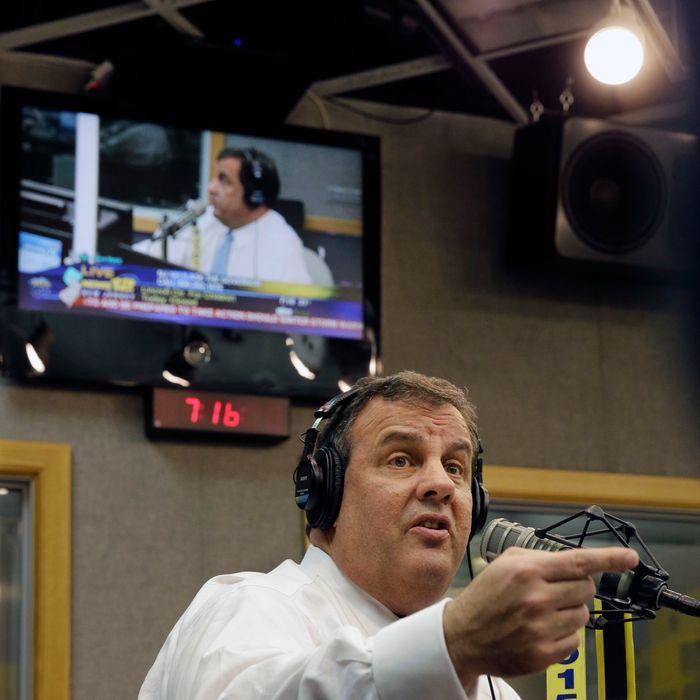 Christie on Monday's radio show.
Photo: Pool/2014 Getty Images
On Friday, the New York Times reported what could be a bombshell in the various Bridgegate investigations: Former Port Authority official David Wildstein claims "evidence exists" that Chris Christie knew about the lane closures in Fort Lee. Apparently Christie's team was concerned that they didn't get their point across when they attacked the Times' reporting and Wildstein's character over the weekend. On Monday they released a second lengthy e-mail cataloging the Times's "sloppy" and "misleading" work, with links to dozens of tweets and media reports criticizing the paper. Plus, Christie appeared on a local radio show and reiterated, "I had nothing to do with this: No knowledge. No authorization. No planning."
During an "Ask the Governor" segment on New Jersey 101.5 FM, Christie tried to clear up various contradictions in his story. "The most important issue is, did I know anything about the plan to close these lanes?" Christie said. "And the answer is still the same: It's unequivocally no. And, in fact, no one's ever accused me of that."
Well, technically that's right. Wildstein's lawyer told the Times, "evidence exists as well tying Mr. Christie to having knowledge of the lane closures, during the period when the lanes were closed, contrary to what the governor stated publicly in a two-hour press conference." So he's being accused of knowing about the traffic nightmare on the George Washington Bridge during the four-day period when the lanes were closed, but not necessarily beforehand.
Christie went on to complain that the media has been playing a "game of gotcha" even though he's been "very clear" about when he learned about the lane closures. At a press conference in December, Christie said he first heard about the issue on Oct. 1, when The Wall Street Journal published an e-mail from Port Authority Executive Director Patrick Foye ordering that the lanes be reopened. But at his marathon press conference last month, Christie said, "It wasn't when Pat Foye's e-mails — I think there was an earlier story than that."
In a video of Christie's radio appearance released by his staff, the governor said the issue first entered his "consciousness" when he read Foye's e-mail in The Journal. He left open the possibility that someone said something to him about traffic in Fort Lee – but not lane closures – prior to Oct. 1. "There's traffic every day at the George Washington Bridge, at the Lincoln Tunnel, at the Holland Tunnel. I hear those reports on the radio. We all hear about them. That's not something that rises to the gubernatorial level," he explained, "Whether I read any of those [earlier press reports], if I did or heard anything from anybody about traffic, it would not have been meaningful to me."
Christie added that he's eager to see the results of the internal investigation he authorized. "I still don't know if there was a traffic study," Christie said. "Did it start as a traffic study and morph into political shenanigans, or did political shenanigans morph into a traffic study?"
He did confirm that his office has received a subpoena from the U.S. Attorney's office, and said they're complying – unlike several former staffers. While Christie was being interviewed, the Star-Ledger reported that former aide Bridget Anne Kelly is refusing to provide documents in response to a subpoena from the state legislature, citing her Fifth Amendment rights.