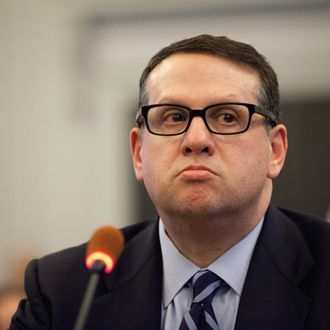 David Wildstein.
Photo: Emile Wamsteker/Bloomberg /Getty Images
Newly unredacted texts between New Jersey Governor Chris Christie's enforcers, both since banished because of the George Washington Bridge Scandal, reveal a bizarre obsession with getting revenge via transportation delays. While the new messages don't tell us anything more about the involvement of the governor's office, they are basically bureaucratic fan fiction.
Six days after his former deputy chief of staff Bridget Anne Kelly's "time for some traffic problems in Fort Lee" message, she was back at it with the governor's Port Authority exec David Wildstein, sharing fantasies about what they'd do to others who'd pissed them off. Their excitement is palpable.
First, Wildstein, who has since turned on Christie, sent Kelly a photo of local Rabbi Mendy Carlebach, calling him the "Jewish Cid Wilson," a reference to another New Jersey political figure. "I think this qualifies as some sort of stalking," responded Kelly. "You are too much."
"You are really so funny," she added.
"And he has officially pissed me off," said Wildstein. "We cannot cause traffic problems in front of his house, can we?" Kelly offered.
"Flights to Tel Aviv all mysteriously delayed," he joked.
"Perfect," she said.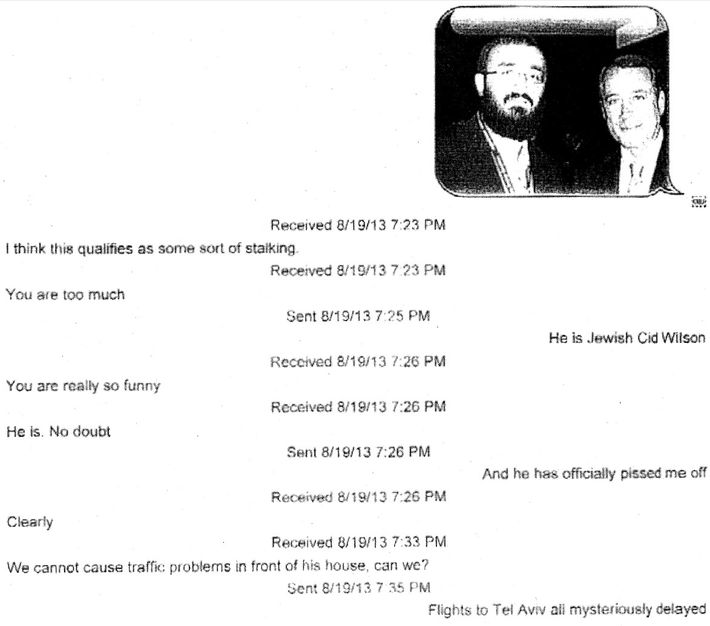 "I am clueless," the rabbi told the New York Times today of what he did to get on their bad side, denying any "bad interactions." This is New Jersey politics.
Elsewhere in the now-public messages, as noted by Business Insider's Hunter Walker, is an exchange between Wildstein and Christie's Deputy Executive Director of the Port Authority, Bill Baroni, about the growing press interest in the Fort Lee lane closures. Baroni assures Wildstein that one of the governor's communications people, Maria Comella, "didn't think much of the story. Said Nobody paying attention. "Bridget same," said Wildstein.
"What did general want?" asked Wildstein. No explicit word on who the "general" is — the rest of the back-and-forth remains redacted.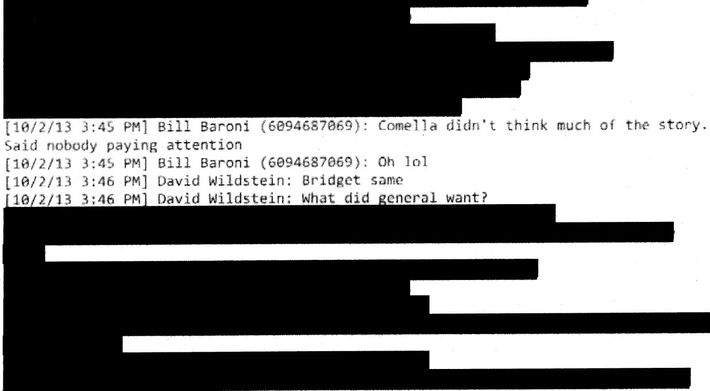 The Bergen County Record has more from the latest batch, including the involvement of yet another friend from Christie's childhood (Wildstein and the governor go way back):
The new messages also show that a Port Authority police officer, Lt. Chip Michaels, was giving reports to Wildstein about the traffic backups in Fort Lee during the lane closures, which ran from Sept. 9 to 13. Michaels, the documents indicate, chauffeured Wildstein to observe the traffic jams on the first morning of the lane closures.

"Local ft lee traffic disaster," Michaels wrote to Wildstein at 8:39 p.m. on Sept. 10, the second day of the lane closures.

Michaels and his brother were childhood friends of Christie, and like Wildstein, they all grew up in Livingston.
And more intimate moments from inside Team Christie:
A message released for the first time also shows that Bill Stepien, Christie's former campaign manager, wrote to Wildstein on Oct. 1 in an apparent reference to Port Authority Executive Director Pat Foye after an internal agency email was leaked to the press. Foye, who was appointed by New York Gov. Andrew Cuomo, reversed the lane closures in the email and called them abusive and potentially illegal.

"Holy shit, who does he think he is, Capt. America?" Stepien wrote to Wildstein on the same day the email surfaced publicly.

"Bad guy," Wildstein replied. "Welcome to our world."
As the heat picked up from the press in November, however, Baroni wondered to Wildstein, "Are we being fired?"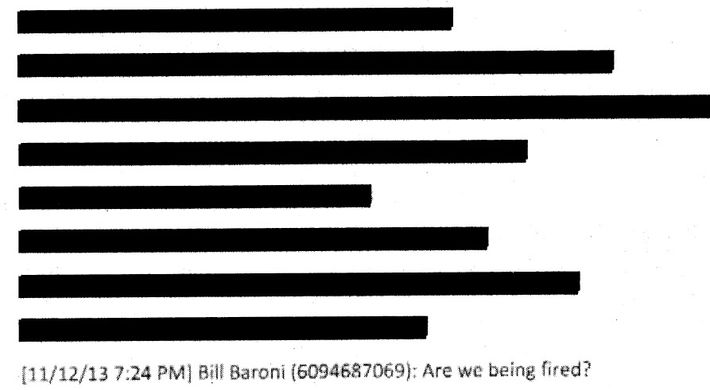 Oh yeah — definitely.
This post has been updated throughout.