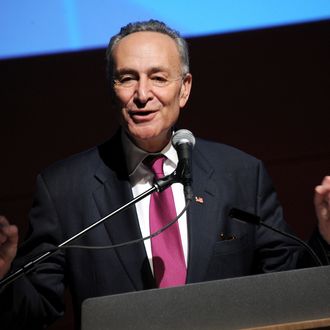 Senator Charles "Chuck" Schumer attends The New School University Center Opening Showcase at The New School University Center on January 23, 2014 in New York City.
Photo: Ben Gabbe/Getty Images
Senator Chuck Schumer sure is enthusiastic about the Super Bowl, which is a relatively major sporting contest that happened in the New York area Sunday night. "With whatever problems there were, it was a home run," Schumer said in a statement on Monday. Hopefully the Mets will play next year and get all the goals!