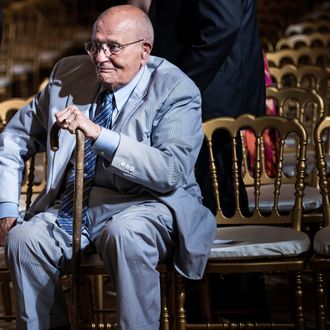 John Dingell is out of here, jerks.
Photo: Brendan Smialowski/2013 AFP
U.S. Representative John Dingell, of Michigan, reached retirement age long ago. But the 88-year-old, who first joined Congress in 1955, remained healthy and interested enough to continue serving in the post to which he'd been elected 29 times. On Monday, however, he announced that while his health is good enough for another term, Congress itself has become so unbearable, he doesn't want to deal with it anymore. "I find serving in the House to be obnoxious," he said at a lunch in suburban Detroit. "It's become very hard because of the acrimony and bitterness, both in Congress and in the streets."
In the remarks reprinted on his website, Dingell did not hold back, calling Congress a "great disappointment to everyone, members, media, citizens, and our country," and assigning blame not only to the members, but to those that elect them. "There will be much blaming and finger pointing back and forth, but the members share fault, much fault; the people share much fault, for encouraging a disregard of our country, our Congress, and our governmental system," he said. In other words, take this job and shove it.