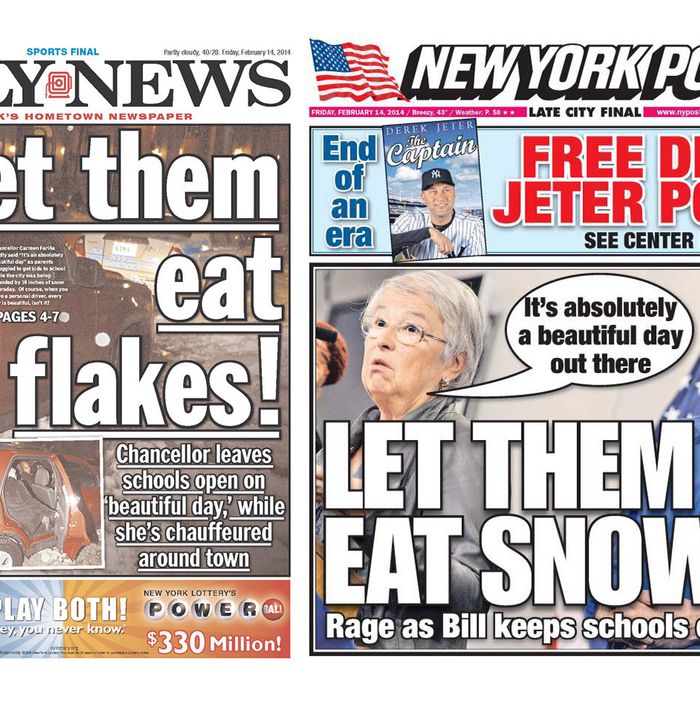 Photo: Daily News, New York Post
Mayor Bill "Uphill Both Ways Through the Snow" de Blasio had a rough day on Thursday, defending his decision to keep schools open during the big snowstorm from a whole slew of critics, including Today Show weatherman Al Roker, who attacked him on Twitter, saying the city failed to respond appropriately to a forecast that proved accurate. (De Blasio claimed that forecasts had underestimated the effects of the weather.) But while Roker is feeling conciliatory about the whole thing on Friday, de Blasio seems to be reeling a bit, canceling Friday's press conference as his administration weathers one of its own first big storms of bad press after a meeting with reporters that was about as warm as the weather.
De Blasio, whose remarks the New York Times on Friday described as "brittle," pushed back against Roker in his press conference Thursday, saying, "It's a different thing to run a city than to give the weather on TV." He defended not only his administration's response to the storm, but his own questionable phone call to an NYPD precinct inquiring about a political ally who had been arrested. This is the kind of stuff the city's hard-bitten press corps thrives on. And, smelling blood, they swarmed.
Friday brought dueling front pages from the New York Post and Daily News, referring to schools chancellor Carmen Fariña's remark during the presser that "it is absolutely a beautiful day out there right now." Point goes to the Daily News, again, for working in the flake/cake rhyme, by the way.
The Times, which pulled no punches in supporting its thesis that de Blasio's honeymoon period with the press had ended, was blunt in its account of De Blasio's alienation:
Allies of Mr. de Blasio, including the City Council speaker and the head of the city teachers' union, all said the mayor had been misguided. The National Weather Service, whose forecast he suggested was inaccurate, insisted the projections it gave to city officials had proved correct.
For many of the city's news outlets, the main issues at de Blasio's presser — his call to police and the city's response to the storm — provided fodder for at least two critical stories about the mayor. That served to effectively double the amount of negative headlines. Al Roker's high-profile criticism, which made it into just about every account of the mayor's struggles, even became its own story in the Post.
Perhaps not wanting to go through this whole trying experience again, de Blasio begged off, his office stating simply that there were "no public events" today. That, of course, suggests he might be rattled, which even good-natured NY1 anchor Pat Kiernen seized upon:
The only good news was that Roker was offering an olive branch after throwing this widely circulated jab on Twitter: "Talk about a bad prediction. Long range DiBlasio [sic] forecast: 1 term." On Friday, he said: "One tweet I do regret: In the heat of the moment — I'm very passionate about the weather — I made a prediction that there would only be one term for his administration. I apologize for that. That was a little below the line." 
Every administration will have its rough times, but this one snowstorm probably won't wind up being the lasting barometer of de Blasio's success, especially once the weather clears. But if he keeps hiding from the press every time they're hard on him, Roker's prediction could certainly come true.