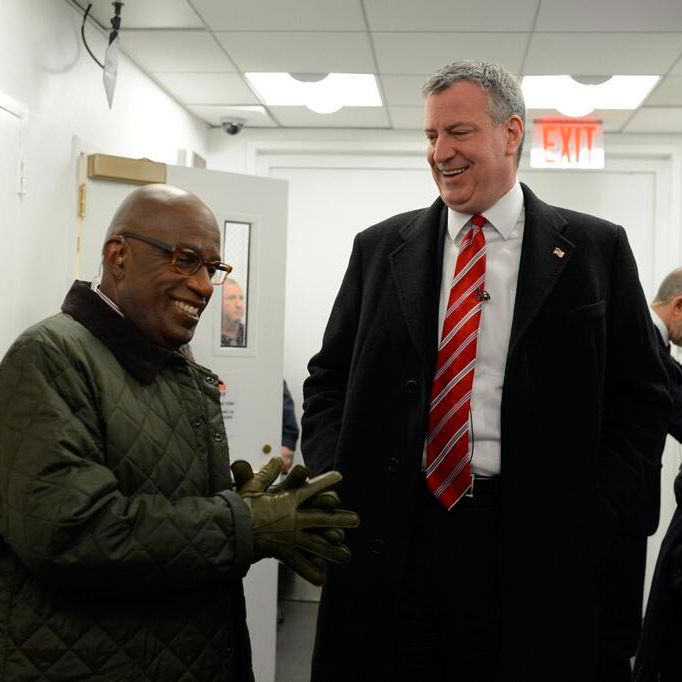 Photo: NYC Mayor's Office
This morning's tabloid-predicted "face-off" between Al Roker and Mayor Bill de Blasio, who dropped by the Today show to cut a ribbon opening Rockefeller Plaza, was hardly the conflict those pugilistic papers had hoped, after the two traded barbs on Twitter earlier this month. While their sideways embrace may have been a bit forced when Matt Lauer asked de Blasio if they had met, the pair proceeded to officially put aside their differences over the mayor's decision to keep schools open during a snowstorm.
"We had a little chat about school closings and snow and we both want the best for our school kids and our city," Roker said, while de Blasio noted there was "a little snow in the forecast," giving the weather man a Department of Sanitation hat and inviting the him to come help with the cleanup. "My dad was a bus driver and he drove a snow-clearing bus," Roker said. "New York's strongest!" Then, to prove not just to the television audience but the internet as well, they took a selfie.
They may not be planning Thanksgiving at each other's houses, but this was hardly the "Twitter gloves coming off," much to every single city reporter's disappointment.