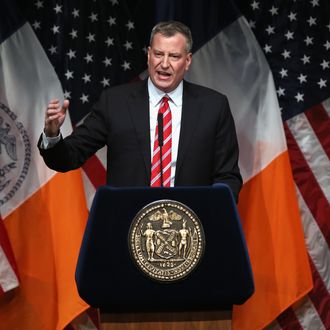 Photo: John Moore/2014 Getty Images
Two days after holding a press conference to tout his administration's tough plan to make streets safer, Mayor Bill de Blasio's big, black SUV was seen cruising right through a stop sign in Queens by the intrepid CBS New York team. Reporter Marcia Kramer reports that de Blasio was in the front passenger seat as his ride went 45 mph in a 30 mph zone and up to 60 mph in a 45 mph zone following today's pothole-filling event. (De Blasio is frequently late, for what that's worth.) Worse, it's on video.
"We want the public to know that we are holding ourselves to this standard," said the mayor on Tuesday. Later, he added, "There's going to be more consequences for bad behavior that could endanger human life."
Asked for comment, the mayor's office referred Kramer to the NYPD. "The police said they are reviewing it and will get back to me," she said.
De Blasio's proposed traffic-safety guidelines include a new system that alerts taxi drivers and their passengers when they're over the speed limit. Perhaps the mayoral motorcade could be outfitted with similar technology.
It also calls for dropping some speed limits from 30 to 25 mph. "The likelihood of a fatal crash and this statistic is very powerful. The likelihood drops significantly for speeds below 30 miles per hour, so if we get those speeds down, it will be the difference between losing a life and saving a life," said de Blasio. "Our lives are literally in each other's hands," he added.
Twenty pedestrians have been killed by drivers so far in 2014, the latest a 73-year-old woman in a hit-and-run this morning in Queens.
UPDATE: The NYPD said in a statement that the mayor's security detail may have needed to break the rules:
The security and transportation for the Mayor are provided by the New York City Police Department. Police Department personnel assigned to the Mayor's Security Detail receive specialized training in driving based on maintaining security as well as safety. At certain times, under certain conditions, this training may include the use of techniques such as maintaining speed with the general flow of traffic, and may sometimes include tactics to safely keep two or more police vehicles together in formation when crossing intersections. The handling of police vehicles transporting any protectee is determined solely by police personnel based on their specialized training in executive protection and professional judgment.
The Mayor's office released this statement:
We believe public safety is everyone's responsibility. We also recognize NYPD's training and protocols, and refer questions related to security and transportation to them. With that in mind, Mayor de Blasio is firmly committed to the traffic safety policies outlined this week," de Blasio Press Secretary Phil Walzak said in the statement.