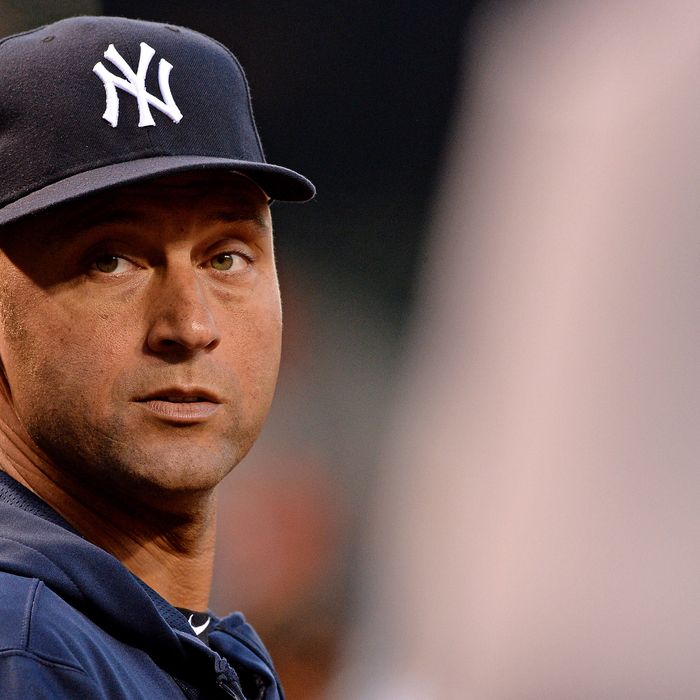 Photo: Patrick Smith/Getty Images
Derek Jeter just gave a fascinating press conference at spring training in Tampa. Starting with Jeter's insistence that it wasn't a press conference — he wouldn't be delivering a speech, he hadn't prepared any remarks. This was a press availability, Jeter said, just like he's done pretty much every day of his Yankees career for 20 years.
Except it wasn't at all the same, of course, because Jeter was here to start to say good-bye. Well, that's wrong, too: "Did you read my letter?" Jeter said, teasingly but not kiddingly, cutting off ESPN New York's Wally Matthews when he asked about the reasons this will be Jeter's last season, which the shortstop had announced and explained in a thoughtful note posted on Facebook last Wednesday. "I wrote it, each and every word of it," he said. The method of that announcement — he only gave the Steinbrenners a short heads up so word wouldn't leak — was all about Jeter being in control. This morning's press event, though, was also about the costs of staying relentlessly under control.
Jeter's intelligence and his sense of humor are givens to reporters who've spent much time around the Yankees. But he's rarely let the curtain down this much in public. Today, Jeter was funny: Asked what he thinks when he hears sportswriters debate his place among Ruth, DiMaggio, Berra, and Mantle, he quickly replied, "They're bored and they're trying to figure out something to write."
He was reflective, talking about dealing with the worst injury of his career, a broken ankle that knocked him out for much of 2013: "It forced me to start thinking, How long do I want to do this?"
And he was openly passionate — well, to a point: "You trying to get me to cry, Jon?" he said to CBS's Jon Heyman, who'd asked whether Jeter, resolutely calm on the surface, was churning inside. "Yeah, I'm emotional … Yeah, I have feelings. I'm not emotionally stunted, there's feeling there. But I've been good at hiding my emotions."
That hard bargain has allowed Jeter to focus all his energy into becoming a sure thing for the Hall of Fame. And — even more remarkably — it has enabled him to stay sane through two decades as the city's biggest sports star. But it hasn't been as much fun for him as it has been for us. "I never really enjoyed the ride," Jeter said today — not asking for any sympathy, just describing the arithmetic of what it took for him to become an elite player and help the Yankees win five World Series.
He still loves the game, always will. But Jeter, nearing 40, is ready to find out what happens when he relinquishes a little control and lets those emotions flow. "You almost blink and it's 20 years later," he said today. "But that's only a small portion of this life." He's going to play as hard as ever for the next seven months. But he's ready to become an adult in full.