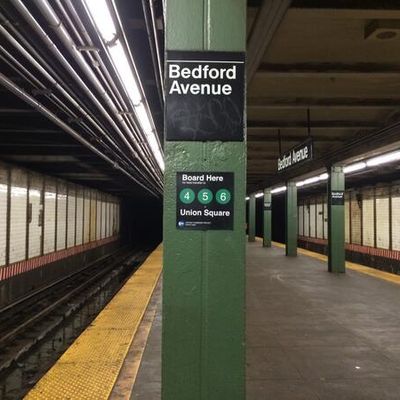 Photo: Efficient Passenger Project
The latest guerrilla sign campaign in the subway is not selling anything. Instead, the Efficient Passenger Project, which launched quietly this week, just wants to help you board the train in the most convenient way for your transfer needs. Borrowing the visual language of official subway signage, the stickers tell riders which car will get them closest to the stairs or exit needed to switch lines at the appropriate station.
"We recognize that it's a common tactic for street-smart New Yorkers. But it's complex and almost impossible to navigate for visitors or if it's your first time to the station," said the person behind the signs, who requested anonymity because "the MTA has been very adamant about hunting us down."
When the idea struck late last year, "The first thing I did was contact the MTA — the marketing department, all different areas," said the EPP founder. "They stonewalled me. A lot of them didn't respond or said no resolutely. So I thought I'd just do it independently."
The first batch of signs went up Sunday night along the L train, which has a huge ridership and various transfer options down the line. The installation went smoothly — "It's New York City, no one really pays attention to you. I just wore a blue jacket and no one gave me any trouble" — with the 4/5/6 transfer spots coming first and more scheduled to go up imminently. "I want to stay out of the grip of the MTA, so I don't want to broadcast too much about when they should expect them to be up, but very, very, very soon," said the EPP.
Design-wise, "I wanted it to look like it was a part of the system, not something that was eye-popping and self-promotional. First and foremost, it's a civic, public project."
The MTA was not into it. "These signs have the potential to cause crowding conditions in certain platform areas and will create uneven loading in that some train cars will be overcrowded while others will be under-utilized," said a spokesperson, adding that "regular customers already know which car they want to get into."
But the EPP won't be foiled easily. "I really tried to make them as permanent as possible. I've made a lot of these things," said the sign-maker. "I'm really going for it. I'm ready for them. My plan is to eventually convince the MTA that this is a plan worth allowing. I want to beat them with the numbers — just keep putting them up." And the signs are just the beginning. "There are better ways to navigate through all of the stations. The next part is… just watch where you're walking."
And yet it's not a competition or meant to make mischief. "We hope the MTA sees the benefit of the experiment," the EPP's founder added. "We'd like to work with them to make this a permanent installation."