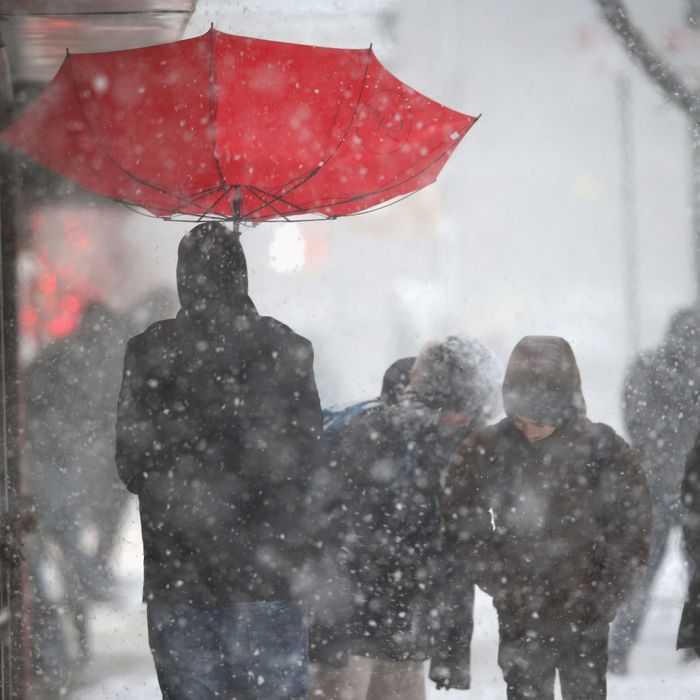 Photo: John Moore/Getty Images
Like a Peter Jackson film series, this winter just will not stop extending its already-overlong output. The snow, once again, is really coming down out there, but you already knew that. After coating the southeast in misery, the nor'easter Moses Paltrow Martin, or whatever the Weather Channel is calling it, has planted itself on top of New York and continues to let loose.
Snow, but also a mix of sleet and rain, is falling at a rate of about three inches per hour this morning, with up to 14 inches total expected. And it's not just water in its various forms! "Blasting, arctic winds are expected to accompany the snowfall with gusts up to 55 mph." There may be some precipitation breaks throughout the day, but all told, this one isn't going to stop until around 6 a.m. on Friday. Then you'll be left to trudge through it.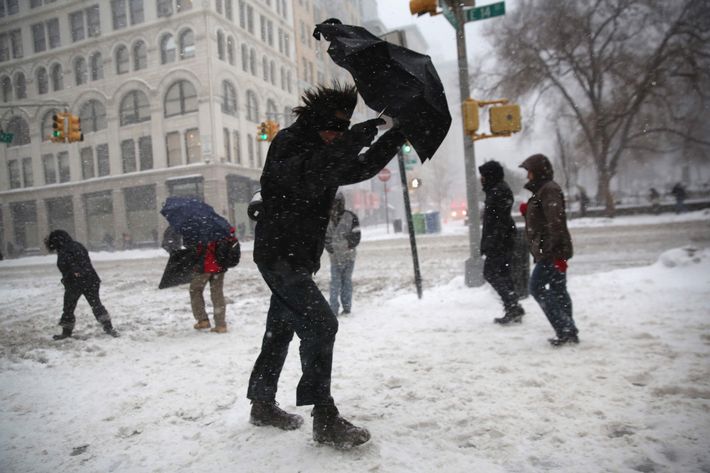 Already, some 2,200 homes on Long Island and in New Jersey are without power. Roads are still usable but getting worse. The subway delays have started. "Because of its timing and intensity, this storm is going to make both the morning and evening rush hours extremely difficult," said Mayor de Blasio last night.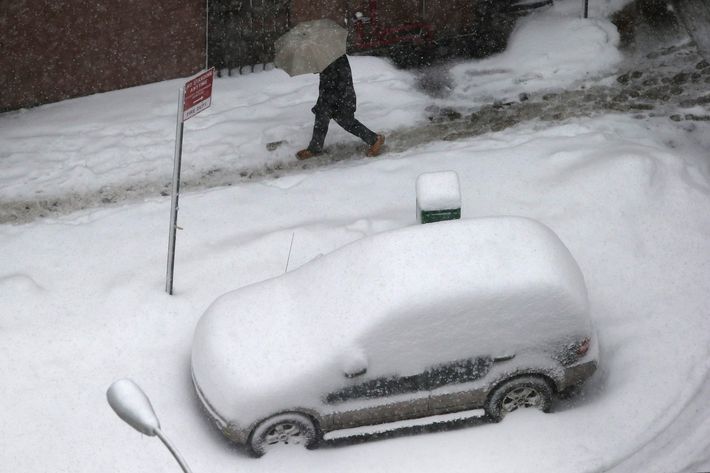 And yet, public schools are open, which … hahaha. De Blasio and Schools Chancellor Carmen Fariña are facing the requisite grousing on social media, but conditions are so bad and transportation so precarious that the criticism — de Blasio closed schools for his first storm as mayor, but not for any of the storms since — will likely spread into the real world (and the New York Post). Still, social media is the most entertaining representation:
Update, 11:45 a.m.: At a morning news conference that started on de Blasio time, about 25 minutes late, the mayor defended the decision to keep schools open. "It was a gray situation," he said of last night's forecast. "Our job is to make a decision — that's always a tough decision with imperfect information — and to give maximum notice."

Noting that he's been a public school parent "for the last 14 years," Mayor de Blasio said, "Since 1978, it's been about 11 times schools have been closed. It is a rarity and it something we do not do lightly."

"Unlike some other cities, we don't shut down in the face of some adversity," he added.

"It has totally stopped snowing," said Fariña, calling attention to the warm-ish temperatures. "It is a beautiful day out there now."
Al Roker does not agree:
"I respect Al Roker a lot," said Mayor de Blasio when asked about the Twitter rant. "It's a different thing to run a city than to give the weather on TV."
Other than all that, nature's majesty is a beautiful thing to behold — as long as it's not touching you:
This post has been updated throughout.