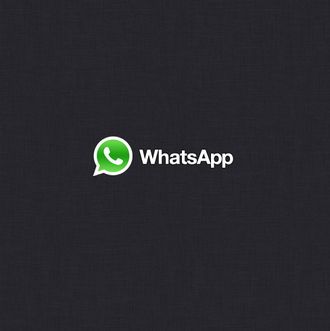 Facebook announced today its plans to buy the "mobile messaging company" WhatsApp for $12 billion in stock, $4 billion in cash, and an extra $3 billion in restricted stock units for employees as the cherry on top. That's a lot of money — way more than the $1 billion Mark Zuckerberg spent on Instagram and $3 billion he offered for Snapchat — and the total has many Americans reacting with a puzzled head tilt. That's because WhatsApp, which counts 450 million users, 70 percent of whom use it every day according to Facebook's acquisition press release, is a monster abroad, across Asia, Latin America, and Europe, where it functions as a cheaper alternative to text messaging.
Last summer, 150 million users ago, the data company Onavo found that WhatsApp had the highest reach of all messaging apps in most major countries, but not the U.S. Here, Facebook Messenger managed to edge it out, but didn't even come close in Europe or Latin America: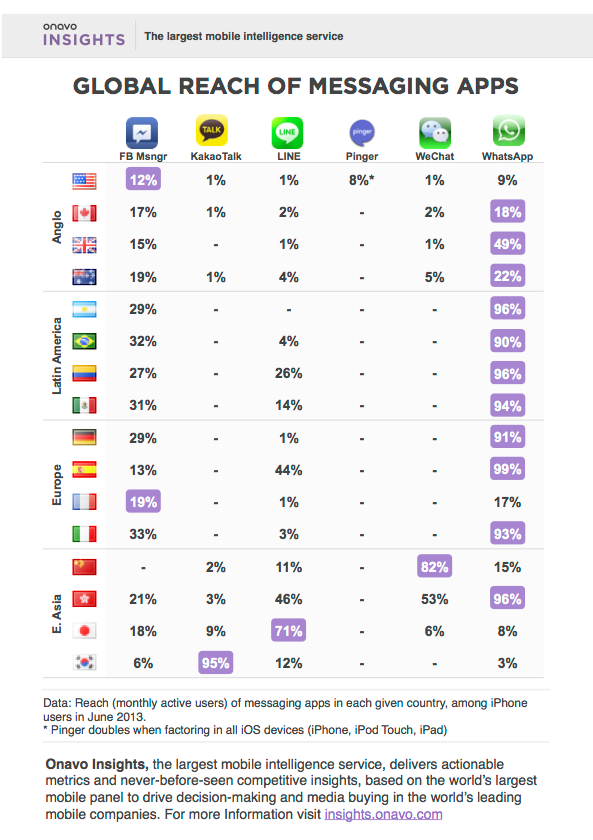 "I think messaging is the actual killer app in mobile," said Onavo's CEO, who analyzed the data. "It's not social, it's not photography, it's not video, it's messaging. It's the number one thing everyone does with their phone — even my mom." (Moms, as we know, love Facebook, too.)
Founded in Mountain View, California, by Jan Koum and Brian Acton, the company still counts just 55 employees and has focused on staying true to its no-frills approach, according to its proud investors:
Jan keeps a note from Brian taped to his desk that reads "No Ads! No Games! No Gimmicks!" It serves as a daily reminder of their commitment to stay focused on building a pure messaging experience.

This discipline is reflected in WhatsApp's unconventional approach to business. After one year of free use, the service costs $1 per year — with no SMS charges. This can save users trapped in expensive data plans up to $150 per year. 
"WhatsApp will complement our existing chat and messaging services to provide new tools for our community," said Zuckerberg in his announcement. "Facebook Messenger is widely used for chatting with your Facebook friends, and WhatsApp for communicating with all of your contacts and small groups of people. Since WhatsApp and Messenger serve such different and important uses, we will continue investing in both and making them each great products for everyone."
He doesn't mention how he plans to make money off of it — "Remember, when advertising is involved you the user are the product," Koum has written — but in the current tech climate, that part comes much later, if at all.