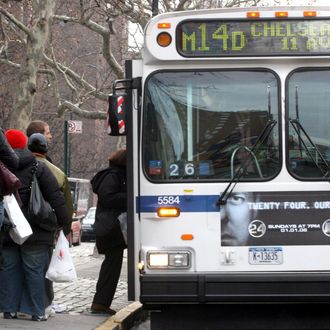 Photo: Daniel Barry/Getty Images
Streets are closed and buses re-routed this morning after a stolen box truck crashed into a bus at Seventh Avenue and West 14th Street, sending it careening into a building and killing the driver. Four passengers were injured, two critically, as well as the driver of the truck, the New York Post reports. The bus was heading east on West 14th Street when the truck hit it at about 5:30 a.m., sending both into a corner Chase Bank and knocking down scaffolding.
"It appears that the truck hit the bus, it's under investigation. Right now it's a crime scene," FDNY Deputy Chief Jim Hodgens told the Post. The truck driver went to Bellevue in police custody. Seventh and 14th streets were closed for a block around the scene, and buses had to be re-routed, so those commuting through the area will probably need some extra time.
Update: The Daily News has the detail that police were chasing the driver of the stolen truck just before the crash. He suffered minor neck injuries, the paper reported. It also reported that three others, not four, had been injured.