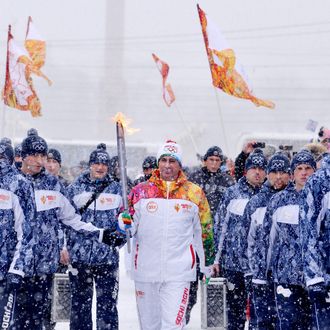 Photo: DANIL SEMYONOV/AFP/Getty Images
As the Winter Olympics celebration started in Russia, a passenger claiming to have bomb aboard an Istanbul-bound flight reportedly demanded the plane land in Sochi, according to Turkish officials. Instead, the pilots safely landed in Istanbul, where authorities worked to get the 110 passengers off the plane safely. The suspect was reportedly detained without incident, to the relief of the world.
Subsequent reports stated that the man was "heavily drunk." He was described by The Wall Street Journal as "a middle-aged man with gray hair and a receding hairline … wearing a sports jersey in red, white and blue."
"While the plane was in the air, one of the passengers said that there was a bomb on board and asked the plane to not land in Sabiha Gokcen [in Turkey] but rather to land in Sochi," said Transportation Ministry official Habip Soluk. The Associated Press reports, "Soluk said the man rose from his seat, shouted that there was bomb on board and tried to enter the locked cockpit. The pilot signaled that there was a hijack attempt and the airport was placed on high alert."
The suspected hijacker is reportedly Ukrainian, according to CNN. "He tried to enter the pilot's cabin, calling out, "Let's fly to Sochi," said a statement by Ukraine's security service.
This post has been updated throughout.