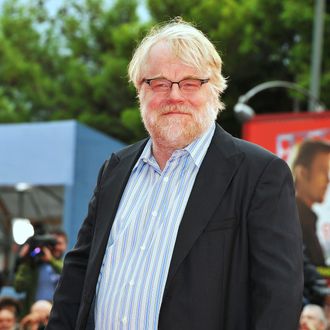 Photo: Pascal Le Segretain/Getty Images
Police arrested four people in a Mott Street apartment on Tuesday night, turning up 350 bags of heroin, after receiving a tip that the Chinatown building could be the source of the drugs that killed Philip Seymour Hoffman, according to the New York Daily News. Police were still questioning the suspects late on Tuesday, but tests have ruled out one theory about the Oscar-winning actor's death: The NYPD said their initial analysis of the glassine bags found in Hoffman's apartment found that they contained heroin, but no trace of the additive fentanyl, a powerful pain reliever linked to 22 deaths in Pennsylvania. 
The actor's apparent overdose set off a special manhunt for the source of the narcotics due to his celebrity status. "An internal email went out to all supervisors asking if anyone has had any experience with those brand names of drugs," a police source told the New York Post. The dozens of baggies of heroin found in Hoffman's West Village apartment were marked "Ace of Hearts" and "Ace of Spades," although the drugs found in the Mott Street apartment were reportedly not stamped with the same names. The investigation is continuing, the Times reports.
"Spades" or not, Robert Vineberg, 57, and Thomas Kushman, 48, were charged with felony drug possession, while Max Rosenblum and Juliana Luchkiw, both 22, were charged with misdemeanor drug possession.
The high-profile death has put a spotlight on the existence of branded bags, "a fevered underground marketing effort in a city that is awash in cheap heroin." Just last week, a Bronx bust included a creative collection of stamps including "Lady Gaga" and "Government Shutdown." (Historically, brands also include "Grim Reaper; a skull and crossbones; D.O.A.," according to the Times.) Heroin seizures are up 67 percent in New York over the last four years.
Hoffman had been sober for more than two decades, but entered rehab last year after relapsing. Recently, he had been attending Alcoholics Anonymous meetings near the West Village apartment he was renting, but a regular tells the Daily Beast he only showed up to meetings occasionally and was known to be "around the program," not "in the program." "My experience is if you're around it, things like that happen," said the AA member. "If you're in it, things like that seldom happen … Especially if you have children."
The city medical examiner has yet to confirm Hoffman's cause of death. The actor's rep said on Tuesday that a private funeral service will be held in New York "for the family and close friends," and plans are also underway for "a memorial service later in the month also to be held in New York."
This post has been updated throughout.