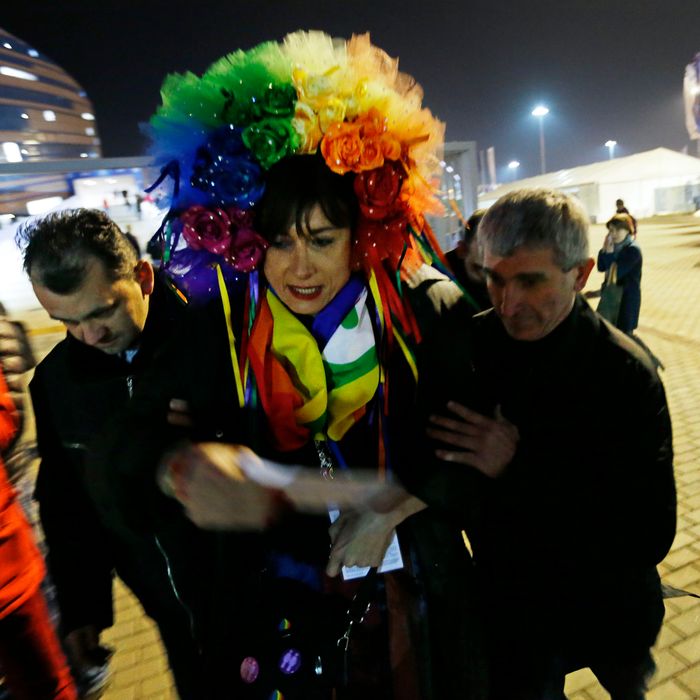 Vladimir Luxuria being escorted from the arena on Monday.
Photo: David Goldman
Though Vladimir Putin was willing to cuddle a bisexual athlete last week, be advised that Russia's ban on "propaganda of non-traditional sexual relations" is still very much in effect. On Sunday, Vladimir Luxuria, a transgender activist and former member of the Italian parliament, held up a sign that said, "Gay Is Okay" and was promptly removed from the Sochi Olympic Park. She says Russian police detained her for about three hours, though authorities claim they have no record of her arrest. Unsurprisingly, Luxuria's decision to return to the Olympic Park on Monday wearing an elaborate rainbow-colored outfit and shouting, "It's okay to be gay!" did not go over well either.
No one stopped Luxuria as she walked around the park for several hours on Monday, pausing to take photos with spectators, but after entering an arena to watch a hockey game, she was taken away by four men not wearing any identification. Luxuria says the plainclothes officers drove her into the countryside and took her Olympic spectator pass.
"I was very, very afraid this time because the first time they said, 'It's okay for the first time, don't do it again for the second time.' So, this time I was a little bit afraid," Luxuria said. "But they just left me outside, in the country, there, outside and that's it." She found her way back to her hotel and plans to leave Sochi, as scheduled, on Tuesday.
The Washington Post notes that during the 1980 Summer Olympics in Moscow, an Italian gay rights protester was dragged off and beaten by the KGB, which also attacked and threatened journalists who witnessed the incident. Comparatively, Russia's treatment of Luxuria wasn't all that bad, but it's still not a good sign when all you can say after a peaceful protest is, "Hey, at least you weren't beaten by goons."