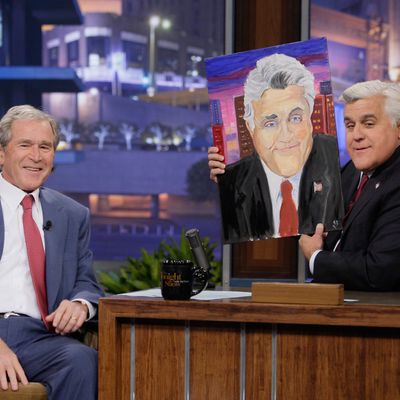 Photo: Stacie McChesney/NBC
George W. Bush has had a couple of accidental art exhibitions, when hacker Guccifer released images of his paintings taken from his emails. Since then, he's been pretty open about his retirement pursuit, and now he's now planning to have a real, live art show. The nice thing about being a former president is that you don't have to worry too much about which gallery is going to host your work. Bush will be showing in his own presidential library, whose website promises not just an art show, but a whole exhibit on his "personal diplomacy," including two dozen portraits the former president has painted.
The George W. Bush Institute describes the show thusly:
The Art of Leadership: A President's Personal Diplomacy will explore the relationships that President George W. Bush forged with world leaders to shape international policy and advance American interests abroad.  Opening in early April 2014, the exhibit will feature more than two dozen never-before-exhibited portraits painted by President Bush. Portraits will be accompanied by artifacts, photographs, and personal reflections to help illustrate the stories of relationships formed on the world stage.
It's unclear if "never-before-exhibited portraits" include those Bush simply didn't mean to exhibit, or ones not seen at all. But most of the Bush works we've seen so far have dealt either with the former president's own naked body or with dogs (except the Jay Leno portrait), so even if some of it is familiar, this new collection should include a lot of new works. Here's hoping we'll someday be so lucky as to see some of his animal-skull works.
Anyway, with Bush getting ready to debut some new works, we thought it would be useful to compile those we've already seen. Enjoy!