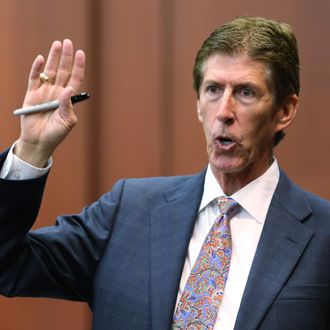 Photo: Pool/2013 Getty Images
According to George Zimmerman's attorney, Mark O'Mara, Florida juries should be told to factor in the state's "Stand Your Ground" law only in cases in which the law actually applies, as it seems some jurors are under the impression that if they are deciding a murder trial and it happens to be in Florida, they must take it into consideration. O'Mara plans to send a proposal to the Florida Bar this week allowing judges to determine if and when juries will be told to consider "Stand Your Ground." O'Mara sees the potential change as a way to "dispel confusion." We can't imagine why anyone would possibly be confused.
O'Mara said "Stand Your Ground" was not necessary to win Zimmerman's self-defense case, nor should it be necessary to win Michael Dunn's re-trial, as the defendants didn't have the ability to retreat. Nevertheless, jurors in both trials indicated after the fact that "Stand Your Ground" had been a factor in their deliberation.
The fact that juries are apparently unsure of whether "Stand Your Ground" applies to their specific trial is highly concerning, as is the collective assumption that O'Mara's proposal is unlikely to do much of anything. "In order to change the jury instruction, the Florida Supreme Court or the legislature has to approve the change. It's hard to see that happening in the current political climate," former state prosecutor David Weinstein told Reuters. So, something to keep in mind if you're called up for a murder trial in Florida at any point in the future.