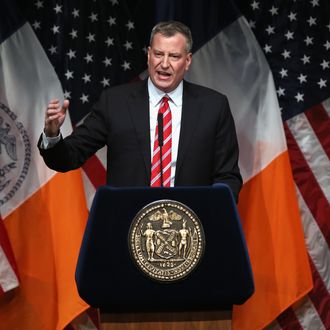 Photo: John Moore/2014 Getty Images
The reactions are rolling in following a report that Mayor de Blasio personally inquired the NYPD about the arrest of Bishop Orlando Findlayter, a key political supporter. Besides potentially signaling a leaky police department, the move — even if it didn't include a request for special treatment, as city officials claim — highlights an uncomfortable transition for de Blasio from "activist politician" to man in charge, the New York Times reports.
Democrat and city comptroller Scott Stringer said the call was "problematic," arguing, "The rule is, the mayor shouldn't be involved in any way about somebody's arrest." Good government groups told The Wall Street Journal the same thing. 
But at a news conference Thursday about the snow, Mayor de Blasio, sounding a bit peeved at the questions, stood by his decision. "I received a report, I made an inquiry," he said. "I thought that the precinct commander handled it well and it was his choice to make."
"It was a very unusual dynamic," the mayor said, involving "a very prominent member of the clergy." In the future, de Blasio said he would evaluate similar situations on a "case-by-case basis."
"I think it's absolutely appropriate if I make an inquiry and get information," he added.
Former Mayor Rudy Giuliani also doesn't get the issue. "I don't think he did anything wrong," Giuliani told the Times. "I don't see that it's a big deal," he added. "He's a new mayor … Give him a break."
Then again, Giuliani was also pretty blasé about Chris Christie's bridge scandal, making him the go-to recent defender of anything that looks like political corruption. At least he's consistent.
This post has been updated throughout.