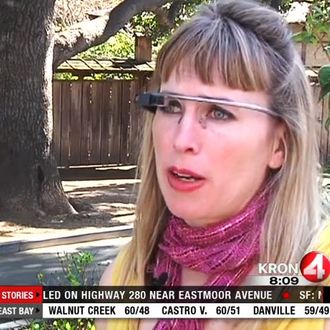 Molotov's, the bar in San Francisco's Lower Haight neighborhood where a woman says she was attacked and robbed for wearing Google Glass, is not the kind of place you would normally fear for your safety. It's not the Satan's Helpers biker bar from Pee Wee's Big Adventure, nor the Grizzlies bar from Smoky and the Bandit. Yes it is a punk bar, but it's also an easygoing, neighborhood beer-and-shot joint on a block that, the last time this reporter hung out there with any regularity (admittedly, years ago), was getting buoyed reluctantly on the rising tide of San Francisco gentrification. But on Friday, it became the scene for either a disagreement between drunks, an example of a culture clash that got out of hand, or a hate crime, depending on whom you ask.
Sarah Slocum is a tech publicist who says she was attacked and robbed while at Molotov's, by "haters" who targeted her for wearing Google Glass after accusing her and her friends of "destroying the city." One person ripped the device from her face, she says, and ran outside with it. While she chased him, eventually recovering her Glass, she claimed someone else stole her wallet and purse. From Slocum's Facebook:

Obviously, this situation got out of hand, and if Slocum's accusations are true, she was the victim of a serious felony. But so has the ensuing discussion gotten out of hand, about someone possibly being targeted for wearing a high-tech device in a city that seems more sharply divided every day by an influx of tech money. And Slocum, in the press and in the comments she's made on Facebook, does not appear terribly sympathetic.
For instance, when people pointed out in the ensuing Facebook discussion that she might have been acting inappropriately in the wrong bar, she went so far as to claim she was the victim of a hate crime. We've reached out to Slocum to ask her about this incident, and the hate-crime claim in particular, and will update with her comments when and if they come.

An actual hate crime takes place when someone is targeted because they are a member of a racial, religious, or social group, so it's going to be hard to argue seriously that you experienced one because someone didn't like what you were wearing. Patrons told KPIX that Slocum was targeted because she was acting like a fool at last call, perhaps recording the events as one man accompanying her got into a fight with someone who'd insulted her over the device. In other words, she was being a glasshole.
"The crowd was jeering as any last call crowd would do with a fight outside of a bar," Lester said. "She was running around very excited … and people were telling her, 'you're being an *** take those glasses off.'"

"I think everybody was just upset that she would be recording outside of a bar this late with obvious embarrassing behavior going on," Lester added. "And just rather insulted that someone thinks it's okay to record them the entire time they're in public."
But despite her unfortunate experience, Slocum, PR professional to the core, keeps plugging this technology she says incurred her fellow bar patrons' wrath. Again, from her Facebook:

Slocum did post this brief video from the night, which she says shows the guy who took her device, and the woman who instigated the confrontation. But it's hard to get much context or detail from the few seconds of footage. So for now, this all sounds like some overly fraught discussion of some idiocy that happened on the kind of drunken night you would usually want to forget.