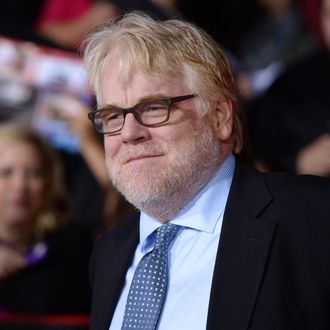 Photo: ROBYN BECK/AFP/Getty Images
In the aftermath of Philip Seymour Hoffman's death, some new details are emerging about both the actor's last weeks alive and the drugs that killed him. It seems Hoffman had been going through a rough patch for some time, telling a stranger at the Sundance Film Festival, "I'm a heroin addict," when the man didn't recognize him and asked what he did, "Page Six" reports. Police found 70 glassine bags of heroin in Hoffman's apartment, the New York Daily News notes (they had previously said 44), along with hypodermic needles and prescription drugs. One question investigators are still trying to answer is whether the heroin that killed Hoffman was cut with a powerful but dangerous pain reliever called fentanyl, which has been linked to a spate of 22 recent deaths in Pittsburgh.
While the Pittsburgh deaths don't necessarily indicate an influx of fentanyl into New York, the New York Times notes that at least one bag police bought from a dealer in the Bronx in January tested positive for the additive. Investigators looking into Hoffman's death are going to test the syringe he used, which will yield results sooner than Hoffman's full toxicology report. Heroin in general is on the upswing here, with seizures up 67 percent statewide over the past four years, and heroin-related overdose deaths up 84 percent in the city from 2010 to 2012, the Times reports.
For Hoffman, whose struggle with addiction had reportedly resurfaced in 2012 after more than twenty years clean, the drug's resurgence coincided with a particularly tough personal period. He had rented the apartment on Bethune Street, where police found him, after longtime girlfriend Mimi O'Donnell kicked him out of the apartment he shared with her and their three kids while he dealt with his addiction.
In addition to the left-field admission he offered at Sundance, "Page Six" notes some troubling recent sightings. As recently as three days ago, the actor appeared in a bar in Atlanta (where he was filming Mockingjay, the third Hunger Games movie) looking "drunk and disheveled." Back in New York, O'Donnell "told cops she last saw the actor on the street Saturday afternoon, then talked to him by phone at 10 p.m. — and he seemed high, sources said."
Update: Offering a bit more detail about Hoffman's last hours, police sources told The Post he'd withdrawn $1,200  in six transactions at an ATM in the D'Agostino grocery store at Greenwich and Bethune streets the night before he was found dead. According to TMZ, Hoffman had been asked, in the weeks before he died, how serious his problem was. He reportedly answered, "If I don't stop I know I'm gonna die."