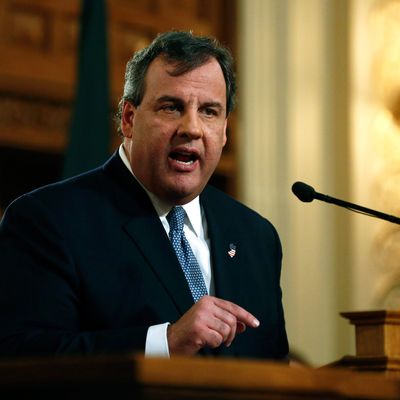 Photo: Jeff Zelevansky/Getty Images
A few weeks ago, Republican consultant Mike Murphy uttered a line that captured the kind of wait-and-see attitude that has characterized his party's approach to Chris Christie's current predicament: "If he's [just] found guilty of being from New Jersey, that won't hurt him at all."
But of course, being from New Jersey is exactly the problem. The state itself is filled with wonderful, honest people, one of whom is married to me. But its political class is relentlessly corrupt. The central thrust of Alec MacGillis's long, deeply reported, absolute-must-read profile is to reinterpret Christie's career as a classic New Jersey machine pol.
A source of possible confusion is that Christie made his name as a federal prosecutor, targeting a long string of genuinely guilty politicians and carrying out his work in a flamboyant way that identified him as a crusader against corruption. But MacGillis persuasively makes the case that Christie was not so much out to destroy the machine as to control it, using his powers selectively to push enemies out of the way when necessary, and to make allies where needed. The story is far too long to summarize, but throughout his career as prosecutor and governor, Christie has successfully made alliances with some of the state's most notorious figures, like disgraced former Democratic Senator Bob Torricelli, Democratic South Jersey boss George Norcross, and many others.
The positive gloss Christie cultivated on these relationships is that he is "bipartisan." This is absolutely true, as far as it goes – Christie will happily cut deals with anybody who can help him, regardless of party or ethical propriety.