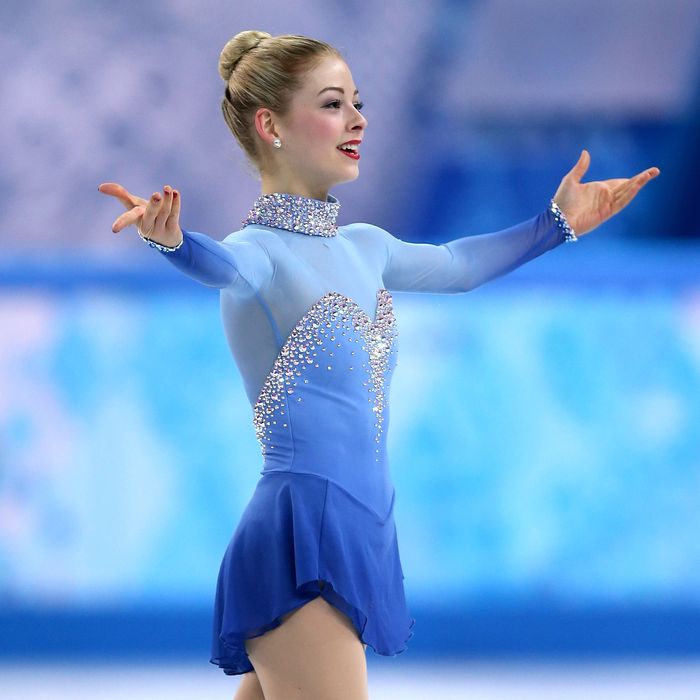 Gracie Gold.
Photo: Matthew Stockman/Getty Images
Gracie Gold, who won the U.S. figure-skating title earlier this year and is competing at the Olympics in Sochi, is a headline-writer's dream. But she's not alone: She's actually one of three athletes on Team USA this year with a last name of "Gold." Neither of the other two won a medal of any color in their respective events: Snowboarder Arielle Gold hurt her shoulder in a practice crash and was unable to compete in the women's half-pipe qualifier, and Arielle's brother, Taylor, only got as far as the semifinal in the men's half-pipe. Gracie, meanwhile, won a bronze in the team event, but still has one more chance to finish atop the podium in the individual event. But how have other U.S. Olympians with "Gold" in their names fared? Historically, not very well.
Anne Goldthwaite
Sport: Painting (1932)
Did she win gold? No, her paintings did not earn her a medal in the 1932 Olympic art competitions. (Those competitions really did happen, though.)
Ralph Goldstein
Sport: Fencing (1948, 1956)
Did he win gold? No. He didn't win a medal of any kind in either of his two Olympic appearances.
Hal Goldsmith
Sport: Fencing (1952, 1956, 1960)
Did he win gold? No. He failed to medal in three trips to the summer games.
Sandi Goldsberry
Sport: Track and field (1972)
Did she win gold? Not even close. She finished 38th in the qualifying round of the high jump.
Jane Goldman
Sport: Speed skating (1984, 1988)
Did she win gold? No. She competed in five events over two games, but never finished higher than tenth.
Andrew Goldman
Sport: Sailing (1988)
Did he win gold? No. With teammate Paul Foerster, he finished eleventh in his event.
Margie Goldstein-Engle
Sport: Equestrian (2000)
Did she win gold? No. She finished sixth in the individual competition, and Team USA tied for tenth.
Scott Goldblatt
Sport: Swimming (2000, 2004)
Did he win gold? Yes! After winning a silver in Sydney in the 4 x 200 freestyle relay, he won gold in Athens in the same event.

Natalie Golda
Sport: Water polo (2004, 2008)
Did she win gold? No, though she won a bronze in 2004 and a silver in 2008.
Jen Goldsack
Sport: Rowing (2008)
Did she win gold? No. She finished tenth in the lightweight double sculls event.
Holley Mangold
Sport: Weightlifting (2012)
Did she won gold? No. She finished tenth in the super heavyweight competition.