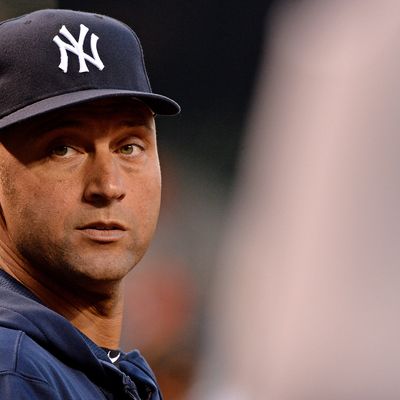 Derek Jeter.
Photo: Patrick Smith/Getty Images
Derek Jeter has been the face of the Yankees franchise for well over a decade, despite playing with an equally legendary teammate and a rotating cast of All-Stars and assorted big names. When he retires at the end of this coming season, no one will immediately fill that role in quite the same way: Factor in how good he's been, and for how long, and that he's done it all with one franchise, and you have to go all the way back to Mickey Mantle to find a comparably iconic Yankee. The Yankees are unique in the way that the story of their franchise can be told through multiple dynasties. And Jeter, more than any other player, came to define his era of Yankees baseball, the way Mantle and DiMaggio and Ruth did generations earlier. Those Joe Torre—led teams were machinelike in how they won post-season series after post-season series, doing so with an enviable mix of prospect development and deep pockets. But as Jeter gets set to call it quits, those Yankees teams are a distant memory. Losing Jeter is a blow to the Yankees brand, but in other ways, it's largely symbolic. The franchise's new identity has already been established.
The Yankees see their brand as one of excellence, and of course, that becomes problematic if the product on the field is merely mediocre, as it was in 2013. But it's also becomming increasingly difficult to market the team that way as bona fide legends like Jeter and Rivera retire. Even the likes of Andy Pettitte and Jorge Posada, if not on that level, were a link to great Yankees teams of the not-too-distant past. This is why, after missing the playoffs last year, the Yankees have been spending like mad this off-season: They can allow themselves to be seen as pinching pennies at the cost of wins. Jeter, more than anyone else, personifies the brand of excellence the Yankees try so hard to cultivate. His retirement matters very much in that sense.
But the identity of the team itself has been changing since well before Joe Torre left town. The Yankees have always spent freely, but thanks to a ridiculous class of prospects, from Bernie Williams up through the so-called "Core Four," it would be hard to accuse the Yankees of simply buying those championships. Roll your eyes if you wish, but combining homegrown players with deep pockets is indeed the right way to build a winning team, and over time, Jeter would become the player most associated with those teams.
The Yankees, though, have been steadily moving away from that philosophy, mostly out of necessity. It's rare to bring up so many impact players in such a short time, let alone ones with such longevity. But a great homegrown player like Robinson Cano became the exception during the Joe Girardi era, not the rule. When the Yankees won their last World Series, in 2009, they still had a handful of reminders of glory days past, but they'd also spent big on free agents the previous off-season. And, of course, their best player in that post-season was Alex Rodriguez, whom they'd signed to a monster new contract in 2007.
This off-season brought yet another spending spree, and the team Jeter will play for in 2014 has very little in common with the dynasty teams. The Yankees identity has already shifted, even before Jeter plays his final game. The core of the team is now a collection of free agents — expensive ones, in most cases — with a decreasing number of noteworthy homegrown players, and not many who are ready to step in in the near future. The face of the post-Jeter Yankees would have been Cano. Now it'll probably be CC Sabathia, if only by default. Yankees fans don't have as strong a connection to Sabathia, though — in part because he not a homegrown player, in part because he'll be on the downside of his career when he takes over that title, but also because the class of Yankees that arrived before him (Pettitte, Posada, Rivera, etc.) had such tremendous success. Yankees fans will forever have an affinity for those teams, and fell in love with even second-tier players from that era, like Paul O'Neill and Tino Martinez. Jeter is the last link, and soon he'll be gone, too.
As a symbol of the absolute end of the last Yankees dynasty, Jeter's retirement matters. But the actual identity of the 2015 Yankees won't be very different than that of the 2014 Yankees. Fans just won't have Jeter around anymore to remind them of happier, more dominant times.