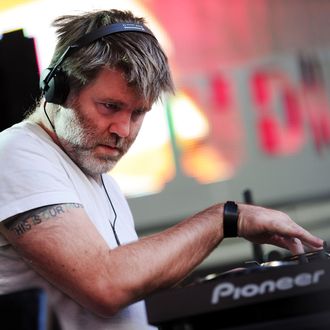 Murphy playing some rare F train sounds on vinyl.
Photo: Bryan Bedder/Getty Images
Former LCD Soundsystem front man James Murphy does not like how the subway turnstiles sound. "They make this unpleasant beep and are all slightly out of tune from one another," he says in today's Wall Street Journal of the "quite brutal" mechanical squeal that rings out every time someone swipes (two beeps means swipe again, three means insufficient fare). The MTA cares much less, if at all, but Murphy has an idea:
For the past 15 years, Mr. Murphy has been crafting what he says is a low-cost musical solution: He has worked out a unique set of notes for every station, one of which would sound each time a passenger swipes his or her MetroCard to catch a train. The busier a station becomes, the richer the harmonies would be. The same notes would also play in a set sequence when the subway arrives at that stop. Each of the city's 468 subway stations would have note sets in different keys.
Unfortunately, the MTA does not much like independent innovation, as we've learned repeatedly, most recently with the vigilante signs that tell you where to stand for an easy tranfser. While it's "a very cool idea," says MTA spokesperson Adam Lisberg, "we don't really care" about the dissonance of the tones. Working on — and paying for — tweaks to each of the subway system's 3,289 turnstiles is not something the agency would do "for an art project," Lisberg says.
Murphy's last chance is going to the top (or close to the top, as the MTA is a state agency, not a city one): He "failed to land a meeting with former Mayor Michael Bloomberg," the Journal reports, but is trying again with Bill de Blasio. "If the mayor wanted this to happen, I know there's someone who could make this work," says Murphy. Let's see how much of a cool Brooklyn dad Mayor de Blasio really is.