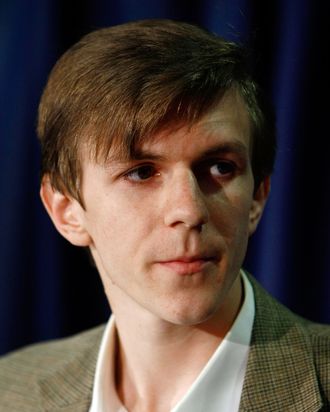 James O'Keefe, the producer of "ACORN Revealed: The Philadelphia Story" takes part in a press conference at the National Press Club October 21, 2009 in Washington, DC. During the press conference Andrew Breitbart showed new video material as well as new footage of ACORN officials.
Photo: Win McNamee/Getty Images
Slate columnist Dave Weigel unearthed an interesting lawsuit on Thursday against James O'Keefe, the conservative activist and Andrew Breitbart protégé whose Project Veritas carries out hidden-camera stings designed to discredit those on the left (most recently, Obamacare navigators). Seems former Project Veritas executive director Daniel Francisco has split with the organization, and it wasn't pretty: Francisco is suing O'Keefe for wrongful termination and defamation, though the details of the split are still a little unclear. But this kind of thing is old hat for O'Keefe at this point, so he'll probably be okay.