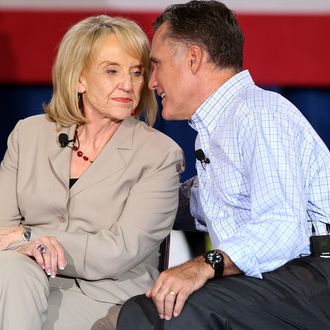 Brewer listens as Romney pushes his "gay agenda" (probably).
Photo: Justin Sullivan/2012 Getty Images
Last week, Arizona's state legislature passed SB 1062, a bill that would allow business owners to refuse service to gay and lesbian customers due to their religious beliefs. Governor Jan Brewer has until Saturday to decide whether she'll allow the measure to become a law, and is said to be leaning toward vetoing it – mainly because she's being "bullied by the homosexual lobby in Arizona and elsewhere," as Rush Limbaugh explained on Tuesday. Businesses like Apple, American Airlines Group, and the NFL – which plans to hold the next Super Bowl in University of Phoenix Stadium – are urging Brewer to kill the bill. More surprisingly, it seems the "homosexual lobby" also includes Republican Arizona Senators John McCain and Jeff Flake, Mitt Romney, Newt Gingrich, and three Republican state senators who now say their votes in favor of the bill were a "mistake."
Republicans aren't turning against the bill solely because it's discriminatory. They're concerned it will lead to boycotts and bad press for the state. After tweeting his opposition over the weekend, Flake told reporters on Tuesday, "I don't think it's needed, and … it would be devastating economically to the state." McCain echoed that sentiment on CNN, saying, "This is going to hurt the state of Arizona's economy and, frankly, our image, so I hope the governor of Arizona will veto this and we move on." Romney and Gingrich also sided with those who want to "advance the gay agenda," as Limbaugh put it.
Politico reports that most Republicans at the national level just want the issue to go away. If Brewer allows the legislation to become a law, opponents could try to overturn it by putting a referendum on the November ballot, giving Democrats fodder for the midterms. Republican consultant Steve Schmidt, who was the senior strategist on McCain's 2008 campaign, told Politico, "It makes the party of Lincoln and Reagan look small, closed and intolerant and exacerbates our political differences with every single demographic group in America that is growing."