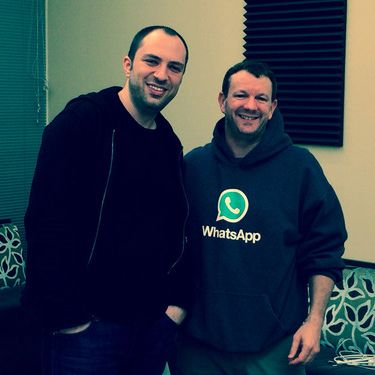 Mark Zuckerberg just made these two guys you've never heard of very rich. Jan Koum and Brian Acton, founders of WhatsApp, are the self-described "yin and yang" of the hugely popular messaging service, which counts 450 million active members, most of them international and thus very alluring to Facebook. Yesterday, Zuckerberg's behemoth announced it will acquire WhatsApp for a total of $19 billion in cash and stock options — upon approval, both Koum and Acton, who hold 45 and 20 percent of the company, respectively, will be instant billionaires.
Luckily, like all good veterans of Silicon Valley ready to hit it big any day, their bios and personalities already veer into self-mythology, including bits of influence from Soviet Russia, the dot-com bust, Kanye West, and Fight Club.
The Origin Story
Koum, who was born in Ukraine, came to the United States at the age of 16. His family struggled growing up and "collected food stamps a couple of blocks from the unmarked Mountain View office that now houses his messaging company, WhatsApp," reports Wired. He did not own a computer until he was 19.
Acton, on the other hand, grew up in Florida with a professional golfer for a stepdad. While he graduated from Stanford, where he studied computer science, Koum, who "hated school anyway," dropped out of San Jose State University.
The pair met while working at Yahoo, where Acton was employee No. 44 and had already been through the ringer, having "invested in the dotcom boom, and lost millions in the 2000 bust."
But it was Koum's youth in the former Soviet Union, and adolescence as an immigrant far from family, that shaped WhatsApp's vision, according to their narrative. Jim Goetz of Sequoia Capital, a WhatsApp investor, explains:
Rather than target users with ads  — an approach they had grown to dislike during their time at Yahoo — they chose the opposite tack and charged a dollar for a product that is based on knowing as little about you as possible. WhatsApp does not collect personal information like your name, gender, address, or age. Registration is authenticated using a phone number, a significant innovation that eliminates the frustration of remembering a username and password. Once delivered, messages are deleted from WhatsApp's servers.

It's a decidedly contrarian approach shaped by Jan's experience growing up in a communist country with a secret police. Jan's childhood made him appreciate communication that was not bugged or taped. When he arrived in the U.S. as a 16-year-old immigrant living on food stamps, he had the extra incentive of wanting to stay in touch with his family in Russia and the Ukraine.
The Bromance
Koum and Acton departed Yahoo on the same day in 2007, keeping in touch "as they slowly considered their next moves, often playing ultimate frisbee together."
Later, in a try-try-again lesson, they both applied to work at Facebook and were rejected. "We're part of the Facebook reject club," says Acton.
In 2009, in between games of ultimate frisbee, the pair founded WhatsApp. "We're the most atypical Silicon Valley company you'll come across," says Acton, who is basically a start-up founder senior citizen at 42. "We were founded by thirtysomethings; we focused on business sustainability and revenue rather than getting big fast; we've been incognito almost all the time; we're mobile first; and we're global first." He says the duo is "the yin and yang — I'm the naïve optimist, [Koum's] more paranoid. I pay attention to bills and taxes, he pays attention to our product. He's CEO. I just make sure stuff gets done."
The Ideals
Both Koum, who is 37 and will join Facebook's board when the deal is done, and Acton prefer to stay largely private on social media, perhaps having already aged out of the cocky disrupter/ostentatious playboy posturing of their younger start-up cohort. (On Snapchat, a WhatsApp competitor that turned down a $3 billion offer from Facebook, Acton says, "Great, teenagers can use it to get laid all day long. I don't care. I'm 42, essentially married with a kid. I don't give a shit about this. I'm not sexting with random strangers. I send the 'I love you's in text. She's sending me photos of our baby. These are memories.")
Neither are very active on Twitter, with barely 100 messages between them, but both are putting out "regular guy" vibes with a splash of tech-bro machismo. "We on a galaxy the haters cannot visit," says Koum's bio, quoting the Kanye West minor work "The One." There's also cards and more Kanye:
Koum's first tweet ever, though, was a Fight Club quote from Tyler Durden:
The same line is reprinted atop WhatsApp's mini-manifesto "Why we don't sell ads," and goes with the small company's ethos (they have just 32 engineers and 55 employees in all). In the words of their investors:
From the moment they opened the doors of WhatsApp, Jan and Brian wanted a different kind of company. While others sought attention, Jan and Brian shunned the spotlight, refusing even to hang a sign outside the WhatsApp offices in Mountain View. […]

Jan keeps a note from Brian taped to his desk that reads 'No Ads! No Games! No Gimmicks!' It serves as a daily reminder of their commitment to stay focused on building a pure messaging experience."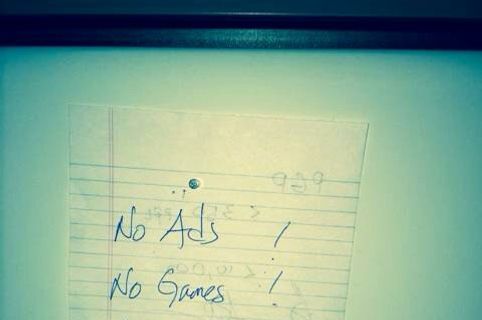 Before the Facebook deal hit, Acton told Wired, "I worry about what [an acquiring] company would do with our population: we've made such an important promise to our users — no ads, no gimmicks, no games — that to have someone come along and buy us seems awfully unethical. It goes against my personal integrity."
"We worked in a large company and we weren't that happy," said Koum. "Facebook Google, Apple, Yahoo — there's a common theme. None of these companies ever sold. By staying independent they were able to build a great company. That's how we think about it."
But, similar to Instagram before them, "Facebook has assured Jan and Brian that WhatsApp will remain ad-free and they will not have to compromise on their principles," assured Sequoia. However principled they might be, they're still a start-up that hit the lottery. And so upon yesterday's news, they still partied in style: