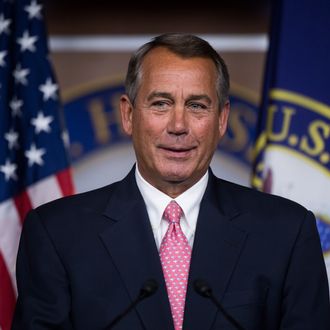 Photo: Bill Clark/CQ Roll Call
Jeez, finally. John Boehner, who has previously shown no hesitation cracking wise about Anthony Weiner's name, joined the other 300 million members of the American public in making the obvious joke about his own name. While answering questions from reporters on Thursday, one of them accidentally called him Mr. Camp — apparently referring to Michigan Republican Representative Dave Camp. "Boner, Boner," Boehner said, nailing it. Fortunately, NBC News producer Frank Thorp made a Vine of the incident, so now you can watch it on repeat forever.
Isn't that what you wanted?
Yes.