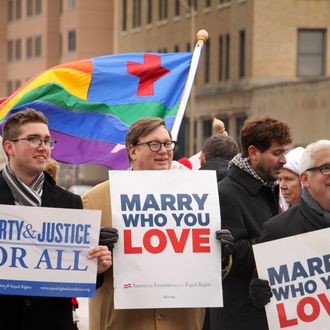 Protesters outside Virginia's Walter E. Hoffman U.S. Courthouse on Feb. 4.
Photo: Jay Paul/2014 Getty Images
On Thursday evening, Virginia became the first state in the South to have its voter-approved ban on same-sex marriage overturned when a federal judge ruled that the prohibition is unconstitutional. "Tradition is revered in the Commonwealth, and often rightly so. However, tradition alone cannot justify denying same-sex couples the right to marry any more than it could justify Virginia's ban on interracial marriage," wrote Judge Arenda Wright Allen. Unfortunately, gay couples can't apply for marriage licenses this Valentine's Day, as the decision was stayed pending appeal.
For those keeping score, there were two other victories for gay marriage in the past week. Over the weekend Attorney General Eric Holder announced that the Justice Department will treat gay and straight married couples equally, granting same-sex spouses important but depressing rights, such as filing for bankruptcy jointly and declining to testify against a spouse. And yesterday, a judge ruled that Kentucky must recognize same-sex marriages performed in other states.
Senators Ted Cruz and Mike Lee tried to even things up by introducing the "State Marriage Defense Act" on Wednesday, which would let states define marriage for federal purposes, and essentially undo the gains made by gay couples when DOMA was overturned last summer. "Under President Obama, the federal government has tried to re-define marriage, and to undermine the constitutional authority of each state to define marriage consistent with the values of its citizens," said Cruz. "The Obama Administration should not be trying to force gay marriage on all 50 states." The bill has no chance of passing in the Democratic Senate, so Cruz and Lee will be awarded no points.