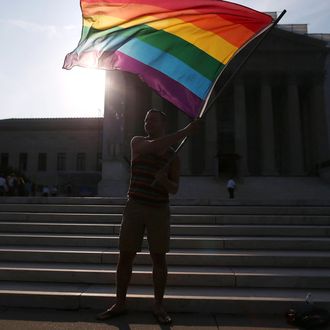 Photo: Mark Wilson/Getty Images
On Saturday, Attorney General Eric Holder continued his post-DOMA effort to extend the federal government's recognition of married same-sex couples by announcing that the Justice Department will give them the same treatment as straight couples during court cases and criminal investigations. That means that same-sex couples will receive some of the less fun but very important legal benefits afforded to their straight counterparts, such as the right to decline to testify against their spouses and the right for file for bankruptcy jointly.
Federal inmates in same-sex marriages will also be given privileges such as "visitation by a spouse, escorted trips to attend a spouse's funeral, correspondence with a spouse, and compassionate release or reduction in sentence based on the incapacitation of an inmate's spouse." Further, the New York Times explains that the Justice Department will "recognize same-sex couples when determining eligibility for programs like the 9/11 Victim Compensation Fund, which pays people who were injured or made sick by the 2001 terrorist attacks. Same-sex spouses of police killed in the line of duty will also be eligible for federal benefits." These rules will apply to same-sex couples in every state, regardless of whether the state recognizes their marriages. However, they won't have any effect on state laws.