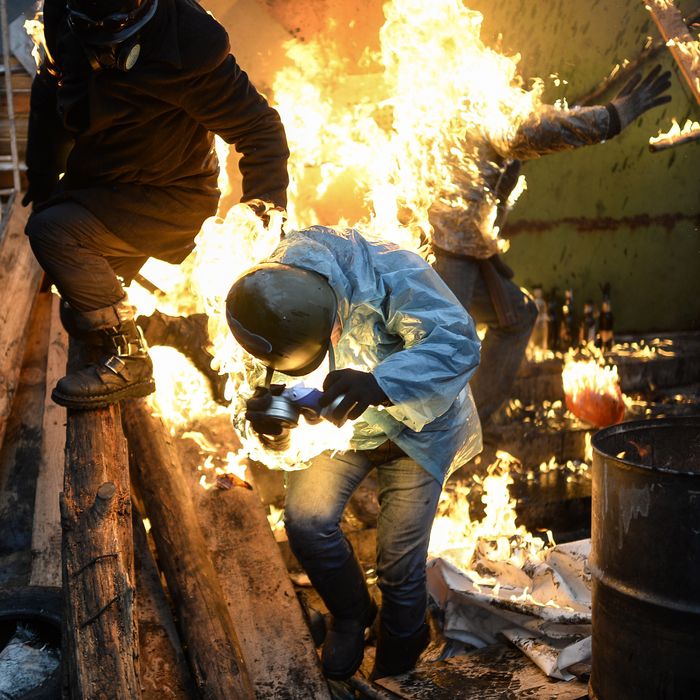 Photo: BULENT KILIC/2014 AFP
A brief and delicate truce declared Wednesday night in Kiev faltered hours later as protesters, believing it to be a ruse, rushed police, who opened fire on them at the beginning of what turned out to be the deadliest day of fighting yet in the Ukrainian capital. Meanwhile, the Council of the European Union voted to impose targeted sanctions on the Ukraine as Thursday's violence settled into an uneasy calm by nighttime. Earlier in the day, protesters moved into new positions and rebuilt their barricades, hurling Molotov cocktails at police and taking officers captive amid automatic rifle and sniper fire. Protest medics told CNN that more than 100 had died, while the Associated Press reported 70 dead and 500 injured on Thursday.
The new round of fighting started just after dawn, the New York Times reports, when "young men in ski masks" moved through an opening in a barricade in Independence Square, the protest's epicenter. They "ran across a hundred yards of smoldering debris and surged toward riot police officers who were firing at them with shotguns." The new push lasted until about 10 a.m., by which time protesters had retaken the entire square.
"They are just delaying to make time to bring in more troops," one protester told the Times. "They didn't have the forces to storm us last night. So we are expanding our barricades to where they were before. We are restoring what we had." The live news feed reported protesters elsewhere in Ukraine were trying to block trainloads of soldiers headed for Kiev.
President Viktor Yanukovych's office, meanwhile, accused protesters of acting in bad faith during the truce. "The opposition used the negotiation period to buy time, to mobilize and get weapons to protesters," CNN reported it said in a statement. Protesters, who fired back at police with their own guns, said police were shooting to kill, aiming for their hearts and heads. One told the Times, "if they didn't use guns, the idea never would have come to us."
During the fighting Thursday, protesters took police officers hostage, the AP reports. "Protesters were also seen leading policemen with hands held high around the sprawling protest camp in central Kiev - Ukraine's Interior ministry says 67 police were captured in all. They are being held in Kiev's occupied city hall, an opposition lawmaker said."
Outside of Kiev, the Times notes reports from the west of the country, "a longstanding bastion of antigovernment sentiment," where more protesters had stormed police and state security service facilities, setting them on fire.
The clash that started when Yanukovych refused to sign a trade deal with the European Union in December is coming to symbolize a conflict between Russia, which supports Ukraine's government, and the EU and United States, which support the opposition.
After its emergency session in Brussels, the Council of the European Union announced it would be introducing sanctions "as a matter of urgency," including an asset freeze and visa ban on those responsible for human rights violations, as well as a suspension of export licenses for "equipment which might be used for internal repression."
The White House on Thursday issued a statement saying it was "outraged" at the Ukranian government's use of automatic weapons on its own people. "We urge President Yanukovych to immediately withdraw his security forces from downtown Kyiv and to respect the right of peaceful protest, and we urge protesters to express themselves peacefully. We urge the Ukrainian military not to get involved in a conflict that can and should be resolved by political means," the statement said. It promised to "work with our European allies to hold those responsible for violence accountable," but stopped short of any specific threat.
The images from Thursday's violence are disturbing and graphic, but help convey what the AP described as "the almost-medieval melee" between protesters and police in Kiev.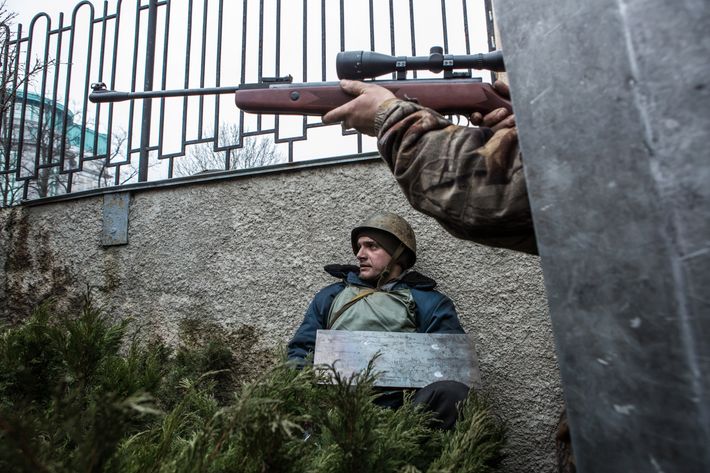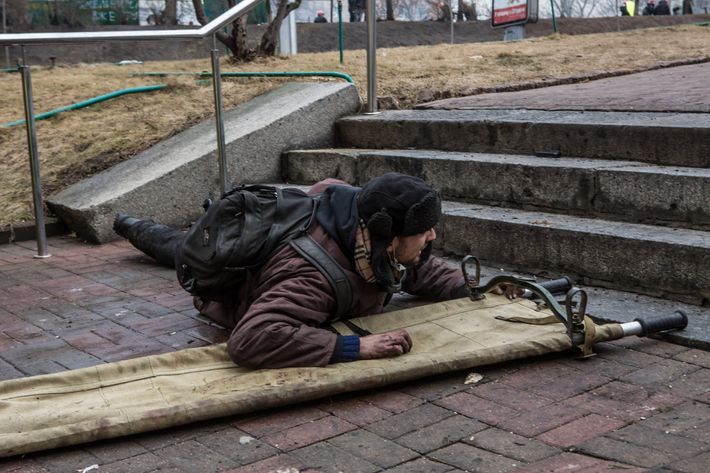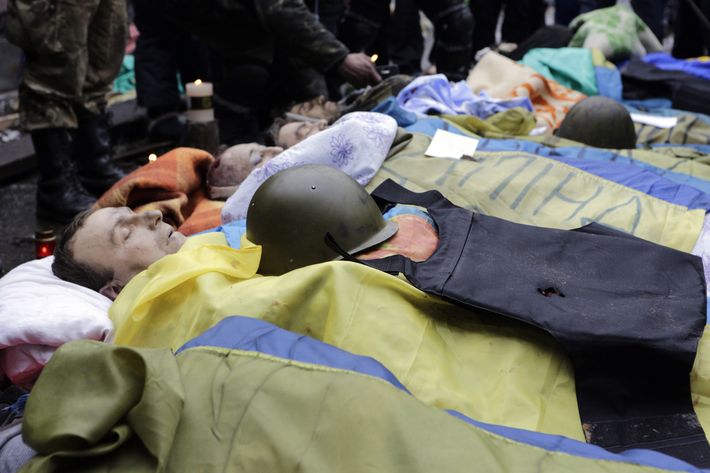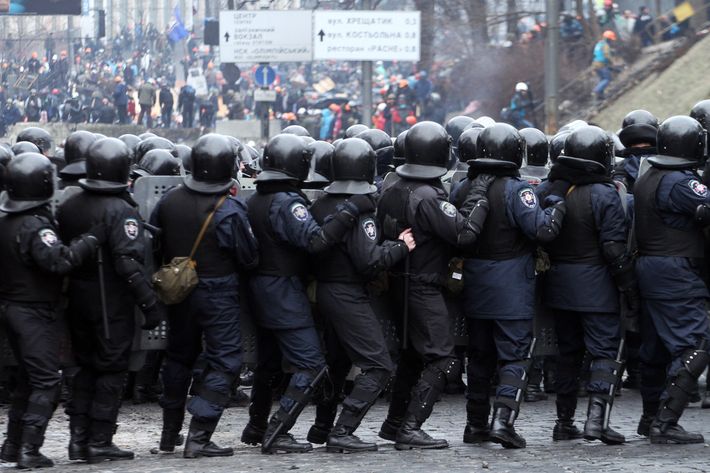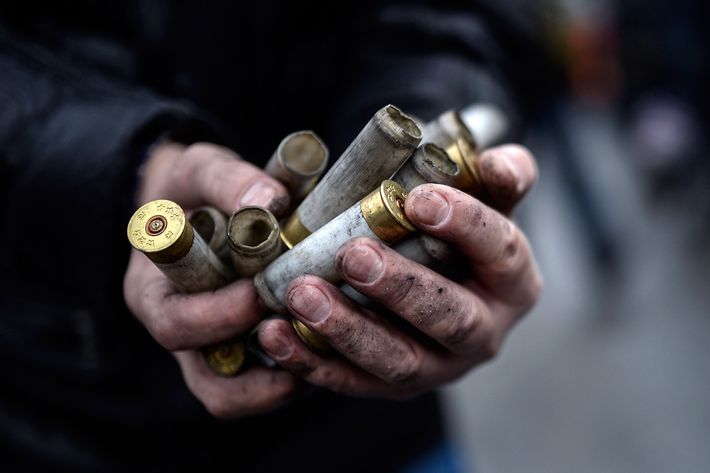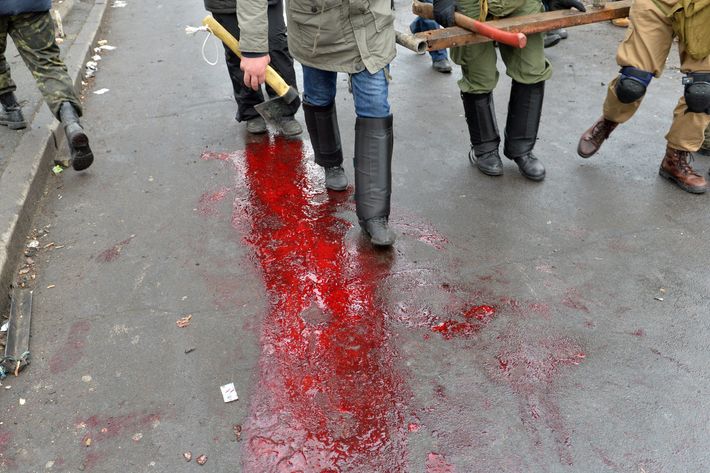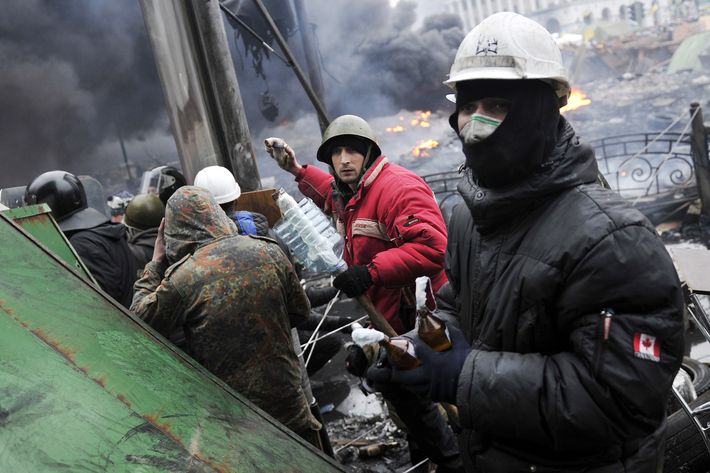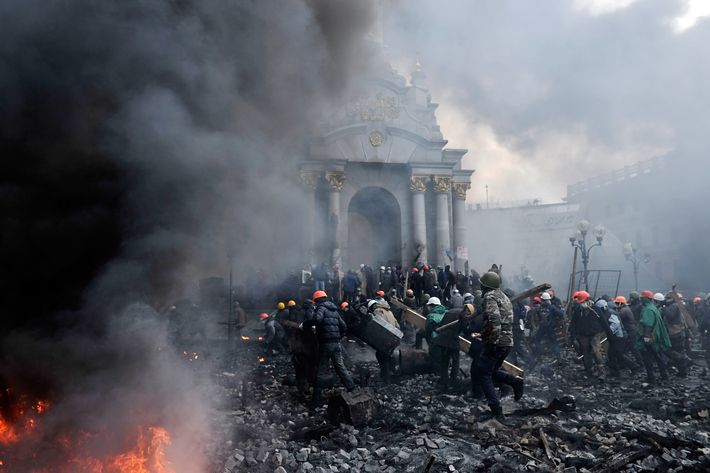 This post has been updated throughout.