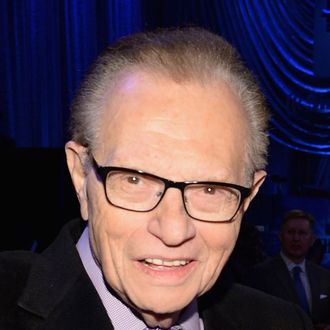 Photo: Larry Busacca/Getty Images
The news that Piers Morgan is getting the boot at Jeff Zucker's CNN was not very surprising to anyone, but especially not to the man he replaced after a quarter-century run in prime time, Larry King. "In truth, when someone is on the air for the amount of years I was on, whether it's me or anyone, whoever replaces him, you don't want to be the person who replaces him," King told The Daily Beast's Lloyd Grove, throwing a bit of shade. "It's very hard to step in — putting myself aside — into any shoes that have been there forever." Himself aside, of course.
"We were very different styles," King went on. "I asked shorter questions. I left myself out of it. Piers is more of an 'I' interview style." Not that there's anything wrong with that. 
Morgan announced in David Carr's New York Times column today that he's on his way out at 9 p.m., blaming mostly his Britishness. "I'm not a programmer, I'm a broadcaster," King said, barely able to contain his true feelings. "But as he said, something about the British thing probably had something to do with it… I'm sorry. I never like to see anyone leave, but it's a business where nothing is forever. It's transitory. Coaches are hired to be fired. I wish him well."
That said, King, who is 80 and currently hosts Larry King Now on something called Ora TV (Hulu and Russia Today carry it as well), would totally come back if necessary. "If [Zucker] talked to the people at Ora TV and they could work it out, I would do it," he said, Piers's TV body barely cold.