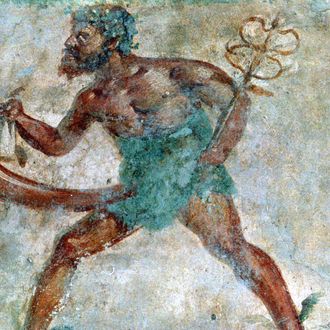 Mural of Mercury, Pompeii, Italy.
Photo: Print Collector/Art Media / Heritage Images
Manhattan real-estate developer Sean Ludwick of Black House Development likes to do a little painting on the side. Unfortunately for everyone involved, his amateur artwork was hanging in his girlfriend's Tribeca apartment during their ugly breakup. "I became unhappy when I found out she was having an affair," Ludwick told the New York Post. "I augmented my work to reflect my emotions at that moment." By drawing yellow dicks everywhere.
"I just wanted to update the pieces," he said.
Ludwick allegedly texted his ex later, "Sorry about the paint, I was a little drunk this weekend." He was charged with trespassing, harassment, criminal mischief, stalking, and impersonation after also emailing the woman's bosses to call her a "harlot" and worse.
And yet somehow it's his lawyer, Daniel Ollen, who comes out of this whole thing looking the worst, arguing, "It's hard to believe he was arrested for a felony based on these limp allegations."