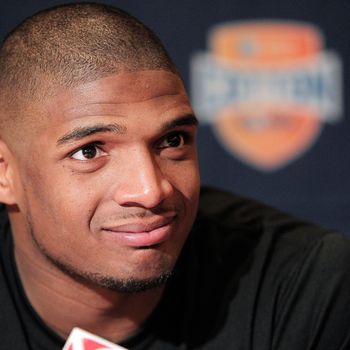 Michael Sam speaking at an NCAA college football news conference in January.
Photo: Brandon Wade
In the lead up to the Olympics, there's been a lot of talk about Russia's anti-gay policies, but a top NFL prospect just shifted the conversation about the acceptance of gay athletes back to the United States. University of Missouri defensive lineman Michael Sam announced on Sunday night that he is gay. Sam was the Southeastern Conference defense player of the year last season, and if drafted in April he could become the NFL's first openly gay player. "I understand how big this is," he told ESPN. "It's a big deal. No one has done this before. And it's kind of a nervous process, but I know what I want to be … I want to be a football player in the NFL."
For the last year, Sam's sexual orientation has been an open secret in the college town of Columbia, Mo., and the NFL. Some teammates knew that he was dating a man on the university's swim team, but he officially came out to the team during a preseason football practice last year. "I was kind of scared, even though they already knew. Just to see their reaction was awesome. They supported me from day one. I couldn't have better teammates," he said. "I'm telling you what: I wouldn't have the strength to do this today if I didn't know how much support they'd given me this past semester."
Following the 24-year-old Texan's announcement in interviews with ESPN and the New York Times, the NFL released a this statement:
We admire Michael Sam's honesty and courage. Michael is a football player. Any player with ability and determination can succeed in the N.F.L. We look forward to welcoming and supporting Michael Sam in 2014.
But despite the huge strides made by gay Americans in recent years, Sam may face serious obstacles. While several male athletes in the major sports leagues have come out after their retirement, NBA center Jason Collins became the first active player to do so just last year. Collins, a free agent, hasn't been signed by a team this year.
Many NFL draft forecasters had Sam as a mid-round pick, but according to a depressing report from SI.com, eight anonymous NFL executives and coaches predict he'll drop significantly in the draft. "I don't think football is ready for [an openly gay player] just yet," said an NFL player personnel assistant. "In the coming decade or two, it's going to be acceptable, but at this point in time it's still a man's-man game. To call somebody a [gay slur] is still so commonplace. It'd chemically imbalance an NFL locker room and meeting room."
Others said that most teams would see drafting the first openly gay NFL player as a distraction both in the locker room and in the media. "Every Tom, Dick and Harry in the media is going to show up, from Good Housekeeping to the Today show," said a former general manager. "A general manager is going to ask, 'Why are we going to do that to ourselves?'"
Some questioned why Sam would derail his career before it even starts, but it's possible he didn't have much of a choice. He told the Times that he decided to come out now because rumors were circulating and, "I just want to make sure I could tell my story the way I want to tell it." Whatever initially pushed him to take action, he stressed that he's excited to be speaking out. "I'm not afraid to tell the world who I am. I'm Michael Sam: I'm a college graduate. I'm African American, and I'm gay," he said. "I'm comfortable in my skin."