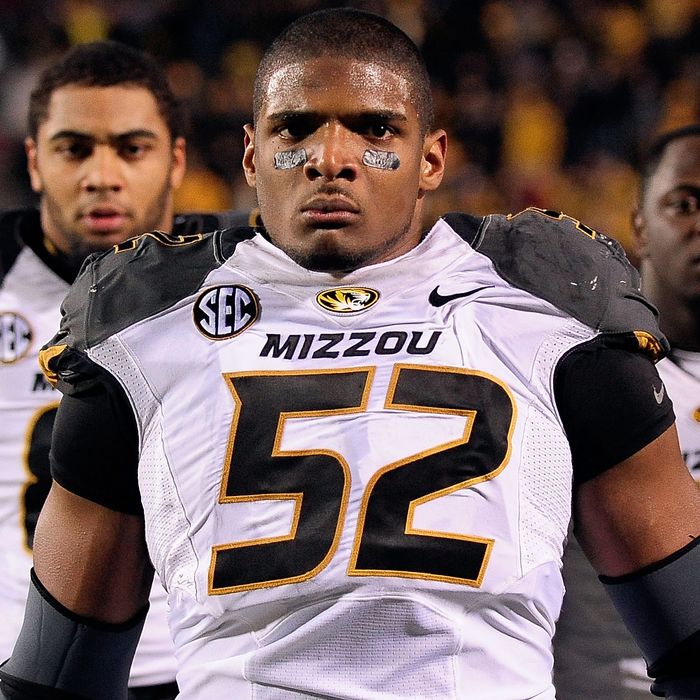 Michael Sam.
Photo: Stacy Revere/Getty Images
Yesterday, former University of Missouri defensive end Michael Sam revealed that he is gay, some three months before the NFL's annual draft. And so this headline today is disconcerting at first glance: "Michael Sam Fell 70 Spots on CBS' Draft Prospect Board Overnight." Seventy spots, for those unfamiliar with the NFL Draft, is a fall of more than two full rounds. And for a player like Sam, who'd been projected as roughly a third-round pick, it would be a costly fall. But is his stock really dropping so dramatically?
With regards to these particular rankings, understand that CBS Sports isn't casting its own judgement about where Sam deserves to go. It's making its best guess about which player will go where, and in light of the less-than-encouraging anonymous comments from NFL executives that have appeared in the past 24 hours, it believed that Sam could be passed over until later in the draft. Immediately after the announcement, as pointed out by Bleacher Report columnist Curt Popejoy, Sam was ranked as the ninth defensive end on the CBS Sports board, and as the 90th prospect overall. When The Big Lead posted this piece a few hours ago, Sam had dropped to 14th at DE and 160th overall. Those ranking have since changed again, with Sam up to at 11th among defensive ends and 110th overall as of this writing. In other words, remember that these projections — as well as every mock draft you'll see between now and April — are just educated guesses.
Usually, when a player drops in rankings like this, it's because of an issue that would scare off all teams equally: an injury, for instance, or a poor performance at the annual Combine. In this case, though, the drop is based on the reaction of those anonymous executives, and perhaps also on the belief that even more teams would feel the same way. But not all teams will necessarily respond the same way here. Yes, some teams might pass on him in light of yesterday's announcement. (The explanation most commonly given for this sort of mindset is a preference to avoid the oft-discussed "locker room distraction.") But there are teams in this draft that need help at defensive end (or outside linebacker, where Sam could be moved), and it only takes one to decide it's taking the best one available, regardless of anything else. (It must also be noted that, for all the talk of "distractions," plenty of people will be lining up to praise the team that takes Sam.)
After speaking with eight executives and coaches on the condition of anonymity, Sports Illustrated's Pete Thamel and Thayer Evans write that the people they talked paint a picture of an NFL culture in which Sam "faces long odds and a lonely path."
But again, it only takes one GM to see things differently. And a GM prepared for the initial burst of attention may realize that while the NFL isn't currently the most welcoming environment, those attitudes could change now that a player is out. Last year, Daily Intelligencer spoke with author Nicholas Dawidoff, who spent a year embedded with the Jets, attending draft meetings, practices, team meetings, and so on. As a result, Dawidoff's got as good an understanding of the dynamics of a locker room as any outside observer, and he believed that despite witnessing some "regressive" attitudes towards homosexuality, a gay player would become part of the group, and once he does, his teammates "will be standing there at his wedding." Or to put it another way: A team that was considering drafting Sam in the third round might still do so with the very same pick, if that particular team isn't among those who see him differently in light of yesterday's news.