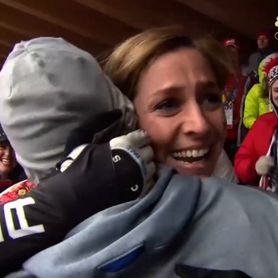 Happy Valentine's Day in Sochi! Single Olympians are busy on Tinder, but it's U.S. skeleton sledder Noelle Pikus-Pace who reminded us what love is really all about. After finishing her final Olympic race, she joyously climbed into the stands, embraced her husband and kids, and celebrated her silver medal win with her family. And yeah, silver! Remember when it was cool to just medal at all? Pikus-Pace seems genuinely thrilled to stand on the podium.
Fellow U.S. skeleton competitor Katie Uhlaender had a rough night, missing a medal by four hundredths of a second. She was really bummed out, and it only got worse in her post-race interview when, as she fought back tears, the NBC reporter asked her: "How about four more years? Is that going through your mind?" Wow, way to rub it in, buddy.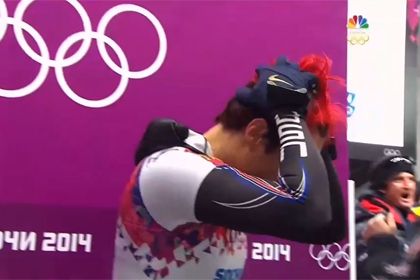 Meanwhile, the NBC Olympic anchor relay continues. Former Today Show co-host Meredith Vieira took over the broadcast Friday night from Matt Lauer, who had stood in for an ailing — but on the mend! — Bob Costas. Viera is the first woman to host the Olympics in prime time. Thanks, Costas's mutant eye bacteria, for this long-overdue milestone.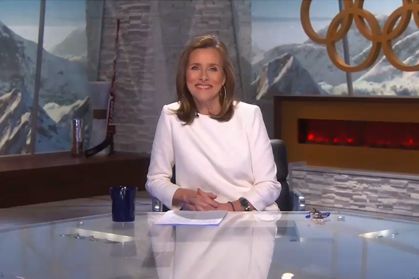 In the men's super combined, which sounds like a fast food order but is really just skiing, everyone expected U.S. favorites Ted Ligety and Bode Miller to medal, but the Sochi slush/snow was not kind to either competitor. Miller was definitely not happy after his downhill run.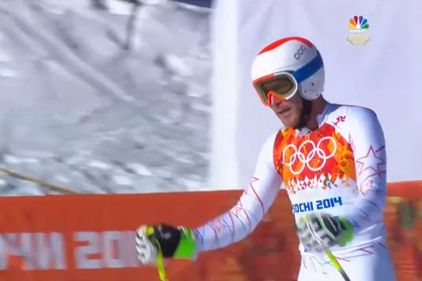 Miller ended up in sixth place overall in the super combined after a so-so slalom run. This wasn't bad for a 36-year-old. The former gold medalist is the oldest competitor in this field, which the announcers kept reminding us. Sandro Viletta of Switzerland took home the gold. Viletta's edge is clear when Miller's run is superimposed in the same frame.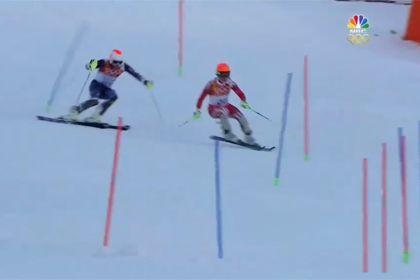 Ivica Kostelić of Croatia earned his fourth Olympic silver. It's actually a pretty big fail because his dad/coach designed the course. Kostelić's pops gets the irony of the whole situation.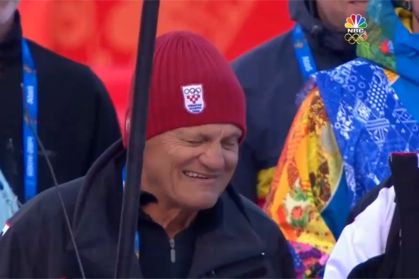 The real mishap came when a medal favorite, Alexis Pinturault of France, got face-smacked while straddling a slalom pole and was disqualified. We didn't see it coming, either.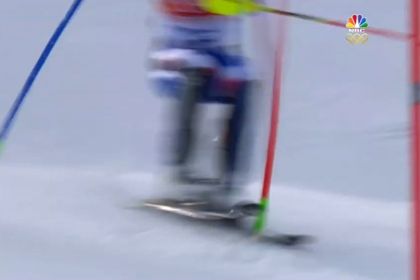 Good thing we always have men's figure skating to give us hope that even if you fall on your butt, and fall again, you can still win gold if everyone else eats ice too. Thankfully for Yuzuru Hanyu, that happened. Hanyu claimed Japan's first gold medal in men's figure skating. We think his Black Swan-esque outfit may have had a little something to do with that.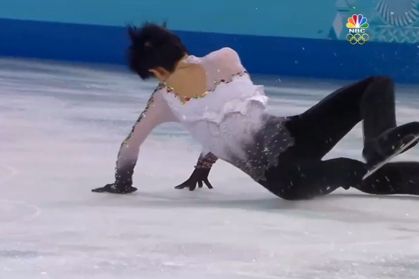 Hanyu's fall left the field wide open for Canada's Patrick Chan to make a move for first. Chan didn't wipe out, but still stumbled, literally, into second place. Oh Canada, it still can't break its gold-medal curse.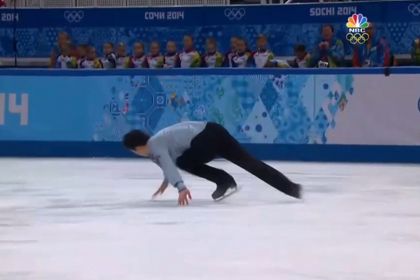 U.S. skater Jason Brown and his ponytail were a long shot even for a bronze, and Brown, with his leprechaun getup and "Riverdance" routine, finished in ninth place after the long program. But he would have definitely medaled in a long-haired Joseph Gordon-Levitt from 3rd Rock from the Sun look-alike contest.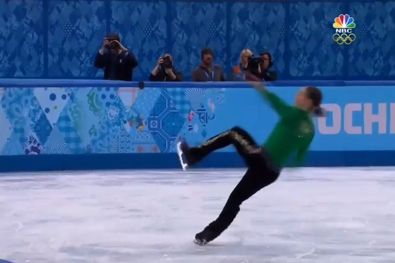 And, finally, let's take a moment and honor some sweet dance moves. When you've got triple-axles and quadruple-lutzes on the brain, it's easy to overlook the artistry. Favorite choreography was a tie between Daisuke Takahashi of Japan, who gets points for skating to The Beatles …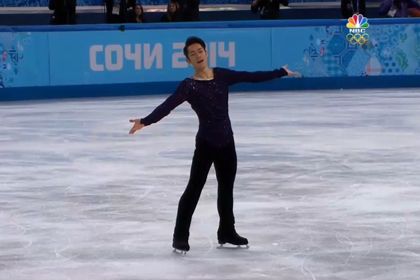 … and Spain's Javier Fernandez. Who gets marked down for choosing the "Pink Panther" theme.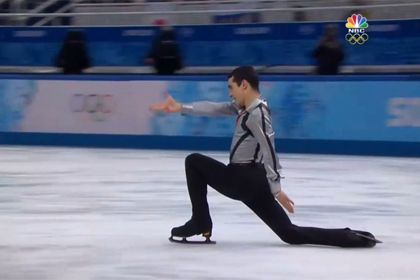 But the most important thing is that we all have reason to chant, "U.S.A.! U.S.A.!" as America has now pulled even with Norway for the lead in the total medal count, with thirteen. Sure, Germany has the most gold medals, but we're thinking all these snowpocalypses are really doing wonders for our Sochi karma.