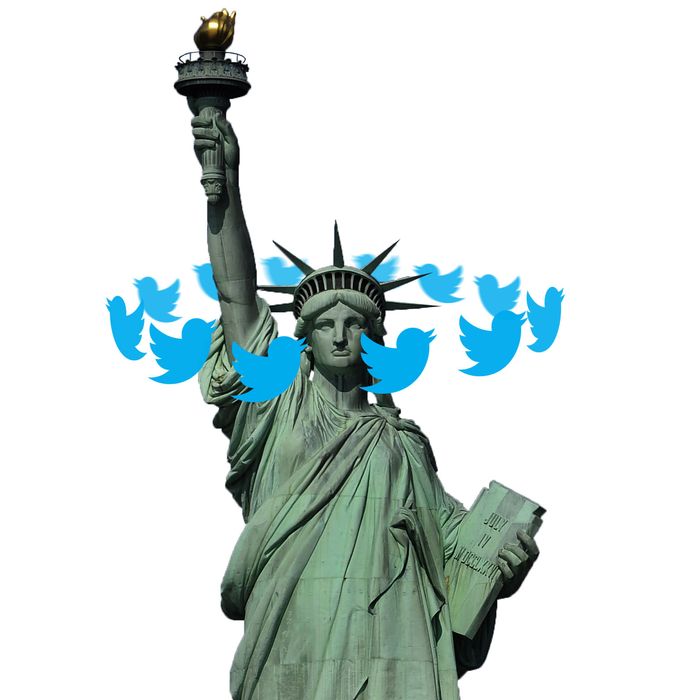 Photo: Timothy A. Clary/AFP/Getty Images
Michael Bloomberg, Bill de Blasio, Donald Trump … Adam Schefter? ESPN's NFL reporter tops a new list of the most influential New Yorkers on Twitter, ahead of mayors and famous people past and present, based not on followers — Schefter has 2.7 million to, say, Fallon's 11.7 million — but recent engagement.
The data, compiled by social media company PeerIndex, uses a special set of algorithms to come up with a New York influence score it calls "Apple π," measuring interactions through responses and retweets. (The info came from 30 days in 2014, ending February 24, which just so happened to include the nearby Super Bowl, so Schefter's reign on top could be short. For more on the methodology, keep reading and check here.)
The full results, though, are an amusing collection of celebrities, politicians, rappers, and reporters, all of whom somehow manage to just about sum this place up.
PeerIndex used only messages from those it determined to be located mainly in New York state, although NYC dominated, naturally. "We don't care if you get 50,000 people from Montreal engaging with you," said founder Azeem Azhar. That's not local influence. (Sorry, Bieber.) "That's what gave us a really interesting picture of what makes up the New York zeitgeist at the moment."
"We've done this quite a lot in different countries," he said. "What's fascinating about New York is that it brought out four things: a lot of media, entertainment, politics, and sports. New York has a bunch of really strong industries and a sense of stronger localization."
As such, after Schefter, Trump, Fallon, and Piers Morgan, who won't be around much longer, comes Knicks star Carmelo Anthony, Bronx rapper French Montana, Bloomberg, Queens rapper Nas, sports reporter Darren Rovell, and Action Bronson, another Queens rapper.
The current mayor is No. 47, while Bill Clinton, who is kind of a New Yorker, doesn't show up until No. 24, with Iman Shumpert, two Knicks beat reporters, and the Mets' Matt Harvey ahead of him.
"The math that we use is really similar to the famous Google page rank," said Azhar. "Effectively, it's all about the links from one place to another. What really matters is who talks to you," with retweets and comments from other influential people weighing more.
"New York is quite an intellectual town, so there's a strong literary component to it," Azhar added. After the top ten we have Neil deGrasse Tyson, Spike Lee, BuzzFeed reporter Andrew Kaczynski, and Maria Popova, who runs the popular blog Brain Pickings.
"In general, media performs reasonably well but not as strong as this," explained Azhar. "In the U.K., we didn't have much in the way of academics showing up in the top 20. What we had were One Direction, a lot of soccer players, and some national politicians."
Among non-human accounts, top honors went to the New York Times, followed by The Wall Street Journal, BuzzFeed, MTV, Foursquare, the Yankees, the Knicks, CNN, Forbes, and the New York Post. (New York was No. 20.)
The most important hashtags from the period included the aforementioned #superbowl, #grammys, #nyfw, and, at the top, #nyc. Because mostly we're just obsessed with ourselves.