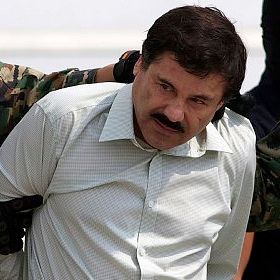 Photo: ? Copyright 2014 Corbis
After thirteen years of searching for the head of the Sinaloa drug cartel, Mexican authorities captured Joaquín Guzmán overnight at a hotel in the beach resort town of Mazatlán. The Associated Press reported Saturday that the man known as "El Chapo" is facing multiple federal drug trafficking indictments in the U.S. for having run a drug empire with ties in North America, Europe, and Australia. Guzmán, who got his start in the drug business in the eighties, is believed to be responsible "for as much as half of the illegal narcotics imported into the United States from Mexico each year," according to the New York Times Magazine.
The New York Times writes that Guzmán's life was like something out of Breaking Bad, minus the origin story: "Guzmán took on near-mythic status, landing on the Forbes list of the world's richest people and talked about his legendary exploits. He picked up the tab for entire restaurants, or so the stories go, so diners would remain silent about his outings and, according to a leaked cable, he surrounded himself with an entourage of 300 armed men for protection. Narcocorridos, folk ballads in tribute to drug lords, were sung in his honor."

"Shorty," as his nickname translates, had been on the run since he escaped a Guadalajara maximum-security prison in 2001 by being "wheeled out in a laundry cart, with assistance from the prison authorities." Although Guzmán's arrest crosses one name off the Drug Enforcement Administration's most-wanted list, the trouble with the drug cartel isn't over: Journalist Malcolm Beith told the Times "a redistribution of power" is likely for Sinaloa.