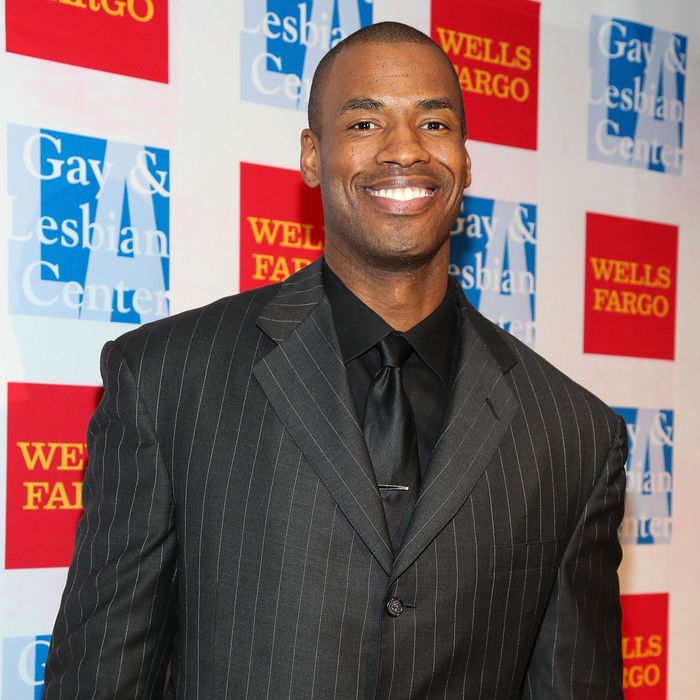 Photo: Imeh Akpanudosen/2013 Getty Images
Some encouraging news from the sports world today: Jason Collins, the NBA player who made history last year when he became the first active athlete in the United States' four major professional sports leagues to come out, will sign a ten-day contract with the Brooklyn Nets. The 35-year-old center has been a free agent since he played his last game with the Washington Wizards in April 2013, and many had speculated that he would never take the court as an openly gay player: Because of his age and relatively unremarkable recent performance, Collins's future in the NBA was uncertain even before he went public with his sexuality. He was not invited to any team's training camp this year, and he's spent the last few months working out on his own in Los Angeles. However, the Nets have decided that he is still an asset.
According to ESPN, the Nets "quietly auditioned" Collins last week, having realized that they needed a good rebounder now that Reggie Evans has been traded to the Sacramento Kings and center Brook Lopez is dealing with an injury. "The decision to sign Jason was a basketball decision," said Nets general manager Billy King. "We needed to increase our depth inside, and with his experience and size, we felt he was the right choice for a 10-day contract…We are bringing in a player for the short term to help our basketball team. It's not about marketing. We are beyond doing something for gimmicks. We are trying to get a guy in who can play basketball at this point. That's my focus." The contract represents something of a homecoming for Collins, who played his first six seasons with the Nets.
So far, the response to the announcement seems to be positive. Nets center Kevin Garnett, who played alongside Collins with the Celtics, told ESPN that he didn't expect Collins's sexual orientation to be an issue for anyone on the team. "I think it's important that anybody who has the capabilities and skill level [gets] a chance to [do] something he's great at," he said. "I think it would be bias, and in a sense, racist, if you [were] to keep that opportunity from a person." Meanwhile, Michael Sam, the University of Missouri defensive lineman who will likely become the NFL's first openly gay player, tweeted out his support:
Collins is expected to be in uniform for the Nets' Sunday night game against the Lakers at the Staples Center. Hopefully, Brooklyn will give him the warm welcome he deserves.