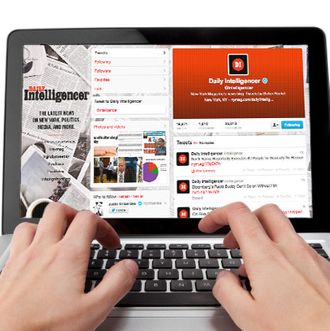 Welcome back to the New York Magazine Competition. The best of last week's submissions, including the winner, appear below this week's call for

 

entries.
To recap: On Monday mornings, we'll lay out a challenge and offer a sample responses. Enter in the comments section, or on Twitter with the hashtag we've provided, and on Sunday the editors will select a winner. Criteria are highly subjective, but heavily retweeted and favorited posts will have an advantage. The prize is a year's subscription to New York in print or a two-year subscription to the iPad edition (winner's choice). Full rules are here.
COMPETITION NO. 13: PEYTON MANNING'S EXCUSES. Please offer an explanation the Denver Broncos' quarterback might have proffered after yesterday's shellacking. For example:
"Wait, it started at six-thirty?"

"Sorry—I was at the Century on Saturday night, and Salman had brought Ian McEwan, who was telling us about the next novel, and it sounds fantastic, and next thing you know it's 4 a.m."

"It's the Giants' home field, right? I was just trying to play like they do."

"I was hoping to lock up the Coke Zero endorsement."
Enter in the comments below, or on Twitter with the hashtag #peytonexcuses.
RESULTS OF COMPETITION NO. 12: STAR WARS COMES TO NEW YORK, in which you were asked to rewrite a line of dialogue (from any of the six films) reset to take place in our town.
HONORABLE MENTION TO:
"Port Authority Bus Terminal. You will never find a more wretched hive of scum and villainy. We must be cautious." 
—DonMattingly
"Help me 3-1-1; you're my only hope."
—77BC
"If there is a bright center to the city, you are at the point furthest from it. Welcome to Staten Island."
—contrarian_dip
"What are we going to do? We'll be sent to the Etsy mines of Greenpoint and smashed into who knows what."
—MC5
"Stand clear of the closing doors, kid, or you'll find yourself Citibiking home."
—JDuggar
"Personal space… privacy… a New Yorker craves not these things."
—Sarah Mogin ‏@SarahMogin
"Aren't you a little short for a mayor?"
—rgqueen
"No large sodas? One thing's for sure: We're all gonna be a lot thinner."
—5th ‏@WritingOnEmpty
"If you strike my tax plan down, I will become more powerful than you could possibly imagine."
—FlirtySanchez
"I am altering the City Charter. Pray I don't alter it any further."
—Wallfly
"Perhaps he would respond to an alternative form of persuasion."
"What do you mean?"
"I think it is time we demonstrated the full power of political patronage. Set your course for Fort Lee."
—mikexcite
"Croissant, or donut. There is no cronut."
—ndesq
"Luke! Luke! Don't! It's a trap! A tourist trap!"
—dc10001
"Now witness the firepower of this fully armed and operational Guy Fieri restaurant."
—nilo
 
"And I thought the G Train smelled bad…on the outside!"
—BennyBrooklyn
"I've got a very bad feeling about this green taxi."
—Sri Sritharan ‏@sris22
"These aren't the 'roids you're looking for, A-Rod."
—Will Levith ‏@Mediawill
"I♥︎NY"
"I know."
—m!ch! ‏@FindingMiemo
"Sir, the possibility of successfully navigating a New York Magazine comment thread that's been taken over by Darth Stumpf and his various antagonists is approximately 3,720 to 1."
—Classicist
AND THE WINNER IS…
Renter: "That apartment is our last hope."
Broker: "No. There is another."
—hoipolloi