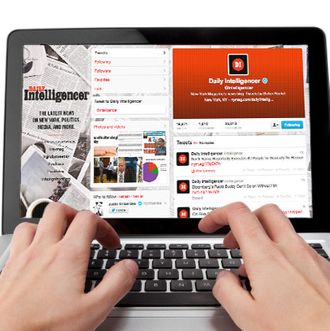 Welcome back to the New York Magazine Competition. The best of last week's submissions, including the winner, appear below this week's call for entries.
To recap: On alternate Monday mornings, we'll lay out a challenge and offer a sample responses. Enter in the comments section, or on Twitter with the hashtag we've provided, and on Sunday the editors will select a winner. Criteria are highly subjective, but heavily retweeted and favorited posts will have an advantage. The prize is a year's subscription to New York in print or a two-year subscription to the iPad edition (winner's choice). Full rules are here.
COMPETITION NO. 14: THIS MOVIE NEEDS MOISTURE. Please replace one word in a well-known title with the dreaded word "moist." For example:
CLOSE ENCOUNTERS OF THE MOIST KIND

THE MOIST TEMPTATION OF CHRIST

INDIANA JONES AND THE MOIST CRUSADE

EXTREMELY MOIST & INCREDIBLY CLOSE
Enter in the comments below, or on Twitter with the hashtag #replaceawordwithmoist.
RESULTS OF COMPETITION NO. 13: PEYTON MANNING'S EXCUSES, in which you were asked to offer the quarterback's justification for the Broncos' Super Bowl loss.
HONORABLE MENTION TO:
"I had an agreement with Flea that we'd just go through the motions and not really play."
—Tyler Hancock ‏@Tyler_M_Hancock
"Sure I could've scored five touchdowns, but my ManningFace™ is so much more poignant when I'm losing terribly."
—CaptServo
"Being the polite, respectful person I am, didn't want any of our guys to trample all over Jimmy Hoffa's resting place."
—Bruce The Blog ‏@BruceTheBlog
"Oh, we were playing AMERICAN football."
—pampl
"I couldn't stop thinking about Joe Namath's coat."  
—aholmes
"We were saving our energy for the New York game."
—Classicist
"Actually, that was Eli."
—volpone
"I still can't figure out that clock in Union Square."
—dinosgoroar
"Papa John's!  Buick! Wait, what was the question?" 
—DonMattingly
"Clearly, Colorado marijuana is a lot better than Washington State marijuana."
—rgqueen
"My o-line got caught up in bridge traffic, so we had to suit up five fat guys from Paramus."
—RegisMayhem
"Disneyland frightens me. Never again."
—legsus4
"It was Obama's fault…"
—jsfox
[Under his breath]: "Newman!"
—raker
"I wanted to settle the Brady vs. Manning argument once and for all."
—MC5
"Lose? I won the "over" on Renee Fleming's time on the national anthem!"
—jack4713
"Was hoping to make it back to the hotel in time for Downton Abbey."
—Anon2004
"You are supposed to catch the ball when you're supposed to catch the ball. I cannot [expletive] throw the ball and catch the ball at the same time."
—hoipolloi
"Freaked out by Sir Ian McKellen performing me." 
— Jonathan Groves ‏@grovesprof
"That snap over my head – dude, that was Manny being Manny."
—Bob Sitten ‏@bobsit10 
AND THE WINNER IS…
"Just before the game I got an email from Chris Christie's office: "Time for some QB problems in East Rutherford.'"
—JDuggar