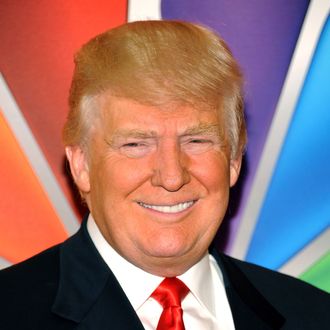 Photo: Evan Agostini/Corbis
This week's New York Observer cover story is a 7,000-word takedown of New York State Attorney General Eric Schneiderman, who coincidentally filed a $40 million lawsuit against Donald Trump — father-in-law to Observer publisher Jared Kushner — calling the billionaire's Trump University business school a scam. More than half of the said takedown — including a subsection titled "The Case Against Donald Trump: Too Much, Too Late?" — is a bald defense of Trump, who is mentioned by name nearly 100 times. But don't be fooled by the look of things, the paper assures in a bizarre editor's note: "The Observer took great care to ensure fair, unbiased journalism throughout the reporting and editing of this story."
Schneiderman has gone from "an anonymous cog in the chaotic, dysfunctional New York State Senate" to "the most political New York State attorney general in memory — and that's saying something, considering the last two guys were named Cuomo and Eliot Spitzer," the Observer reports. But "questions loom":
A pattern of political opportunism in which enemies pay while friends skate, a questionable nine-figure slush fund and an inability to play nicely in his own party's sandbox have begun to make influential New Yorkers wonder if the attorney general has hit his political ceiling. In numerous cases, Mr. Schneiderman has shown vindictiveness toward political foes and been uncharacteristically lenient or ignorant of activities of political friends.
The rest of the story details these claims, with special attention to Schneiderman's "highest profile case to date" — the one against Trump, of course.
As for Trump University, "nearly everybody attending the Trump seminars enjoyed the experience," the Observer reports with complete fairness and neutrality, citing 98percentapproval.com, an anonymous blog stating, "TRUMP UNIVERSITY HAS A 98% APPROVAL RATING. SO WHY IS NEW YORK ATTORNEY GENERAL ERIC SCHNEIDERMAN WASTING MILLIONS IN TAXPAYER MONEY GOING AFTER THEM?" You get the idea.
In a preemptive defense, the Observer editors explain:
The day before this story went to press, someone from Mr. Schneiderman's press operation apparently told another publication, "Donald Trump ordered up a hit piece in his son-in-law's newspaper to retaliate against Schneiderman for bringing a lawsuit against him." Bullshit. The notion that Mr. Trump can "order" The Observer to publish or not publish a story is ludicrous. All newspapers have a publisher. Most publishers have a father-in-law. The fact that The Observer's publisher's father-in-law happens to be well known—and appears to have gotten inside the attorney general's head—had no bearing on this story or on any other story in The Observer. If the anonymous press officer who made that accusation has any evidence that this story was "ordered up" by Mr. Trump, we'd like to see it. 
To borrow a phrase from the Observer, though, "questions loom." The paper admits that the first reporter assigned to the story backed out after getting "spooked." As such, Michael Craig, whose sole byline adorns the piece, told Buzzfeed that Observer editor-in-chief Ken Kurson, a former Republican strategist and longtime friend of the Kushner family, contributed reporting.
Last year, Trump, made the paper's list of "The Most Influential New Yorkers of the Past 25 Years." His daughter Ivanka, who is publisher Jared Kushner's wife, along with various other Friends of Kushner, rounded out the accompanying "Next 25: Rising Stars" list.
In response to that bit of familial boosterism, the Donald told Daily Intelligencer, "I read the most vibrant paper and I called Jared. I said, 'This paper is vibrant.' The last issue was so great. Not because I was in it, by the way. It was just so great. And I said, 'You've really done a great job, because it was so vibrant.'"
Ivanka added that the lists were "everything that the Observer stands for, profiling the relevant people doing so with a specific voice, a real sass. So I think it was just a really representative issue, also for the future and what's going to happen under the new editor, Ken."
Update: The original, "spooked" reporter assigned to the story, William Gifford, spoke to Buzzfeed:
"They wanted to go at it a certain way and I wanted to go at it objectively," Gifford told BuzzFeed. Gifford added the article was "definitely meant to be negative on Schneiderman. Gifford said, "The more I learned about him (Schneiderman) the more I liked him….I knew they had their angle…I didn't feel comfortable going forward."