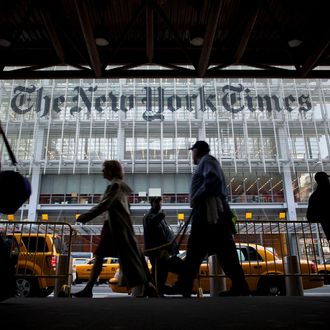 Photo: Michael Nagle Bloomberg/Bloomberg via Getty Images
New York Observer editor-in-chief Ken Kurson, a former Rudy Giuliani man, gets down into the media-beef trenches reporting this week's Molotov cocktail of a cover story, "The Tyranny and Lethargy of the Times Editorial Page." Relying almost entirely on anonymous sources, mostly present and former Times reporters, Kurson reports of a "semi-open revolt" against the section, the paper's columnists — namely Thomas Friedman (not, interestingly, David Brooks) — and especially editorial page editor Andrew Rosenthal. "He runs the show and is lazy as all get-out," says a current Times staffer.
The edit page is called out as "largely irrelevant," "dull," and "a waste of money." Rosenthal is "a wrecking ball" and "extremely unpopular." For example:
As for the charges that Mr. Rosenthal is a despot, one writer provided a funny example that others interviewed for this story immediately recognized. "Rosenthal himself is like a petty tyrant, like anytime anyone on the news pages uses the word 'should' in their copy, you know, he sends nasty emails around kind of CCing the world. The word 'should' belongs to him and his people."
And the tension is boiling over: Legitimate concerns about the staid nature of the section aside, "One reporter says that he literally will not allow Mr. Rosenthal to join their lunch table in the cafeteria." Really — one reporter said that! No word on Rosenthal's chances finding a prom date.