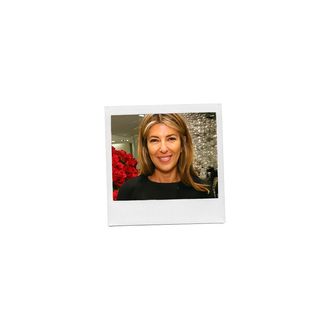 Name: Nina Garcia
Age: "Ageless"
Neighborhood: Upper East Side
Occupation: Creative Director, Marie Claire, celebrating five years at the magazine this month.
Who's your favorite New Yorker, living or dead, real or fictional?
Holly Golightly or Carrie Bradshaw. Because they're the ultimate shopping girls! And I'm all about shopping. 
What's the best meal you've eaten in New York?
Korean BBQ. I happen to have an obsession with Korean food. (I must have been Korean in another life.) I think what's so great about the city is that you can have the best food from any part of the world, and Koreatown has the best Korean. Also, Il Buco.
In one sentence, what do you actually do all day in your job?
There's no regular day at my office.
What was your first job in New York?
I was an intern at the Perry Ellis press office when Marc Jacobs was the designer. I was naïve — let's put it that way. The Rolling Stones would come in and hang out with Marc — this was when he was designing the grunge collection. I was a lowly intern so I just stuttered around them.
What's the last thing you saw on Broadway?
Kinky Boots. I loved it. The other one I thought was great was I'll Eat You Last, the Bette Midler one-woman show. Oh my god, that was the best. It was 90 minutes but it felt like 9 minutes.
Do you give money to panhandlers?
Occasionally.
What's your drink?
Sparkling water, with ice. Pellegrino is my Diet Coke.
How often do you prepare your own meals?
When I have time, which isn't so often. I'm not sure if I can cook. I probably can. But I'm really good at cajoling anybody around me to cook for me.
What's your favorite medication?
Game of Thrones. It's just amazing.
What is the best thing in or about your apartment?
Its proximity to Central Park, which my children use. Really though, the best thing about my apartment is that it looks over Oscar de la Renta and all the shops.
What's the craziest thing you've ever seen on the subway?
I don't ride the subway. Either I walk or I take a New York City taxi.
When was the last time you stayed out past 3 a.m.?
Paris Fashion Week. There's always a party. Even if there's not a party, everybody smokes and drinks and stays out late. They're French.
Which do you prefer, the old Times Square or the new Times Square?
Old Times Square. It was more colorful back then. I've been coming to New York from Colombia since I was three years old — my dad had a fascination with the city. We would go to Times Square and I remember it would be like, "Oh, be careful, you might see something," and that made me more excited to go to Times Square, because maybe I could see something that I was not supposed to be seeing. Maybe it's not a good thing, but it's the memory I have.
What do you think of Mayor de Blasio?
He's not Mayor Bloomberg.
What do you hate most about living in New York?
It doesn't have Los Angeles's weather. Also there is no siesta here. I come from a country where siesta is part of the equation.
If you could banish one person from New York forever, who would it be?
The tourist that walks slow in front of you.
When's the last time you drove a car?
Define "driving." How about this: I "don't officially" have a license so I "don't remember" the last time I drove a car.
Finish this sentence: The NYPD _____.
Has a stylish uniform.
Times, Post, or Daily News?
Times for breakfast, Post for lunch, and Daily News for dinner.
Where do you go to be alone?
The shower.
What makes someone a New Yorker?
A unique sense of style, and personality.