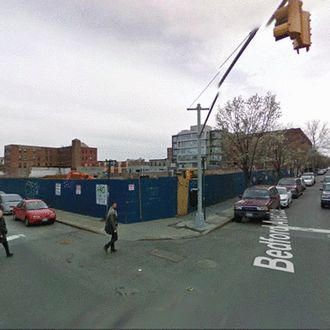 11 Bedford Ave., Brooklyn, NY
Photo: Justin Blinder
Vacated, a new digital art project by programmer Justin Blinder, gets at years of local real-estate change in an instant. Originally conceived as a virtual walking tour for the public project Envision 2017, "I just started experimenting, and the GIF format really renders the whole transformation pretty well in a matter of seconds," Blinder told Daily Intelligencer.
Using data from the NYC Department of City Planning, paired with current and past images from Google Street View, Blinder writes that his project "depicts some obvious examples of dramatic change, but in the end, it's up to the viewer to decide whether this change represents widespread gentrification." (See also: Justin Davidson's "Is Gentrification All Bad?" and its follow-up.)
The project asks, "Vacated by whom? Why? How long had they been there? And who's replacing them?" The answer to the latter is often glass condo buildings. 
Starting with neighborhoods where housing costs have gone up dramatically since 2004, Blinder picked a few noteworthy corners to start:
11 Second Avenue, Manhattan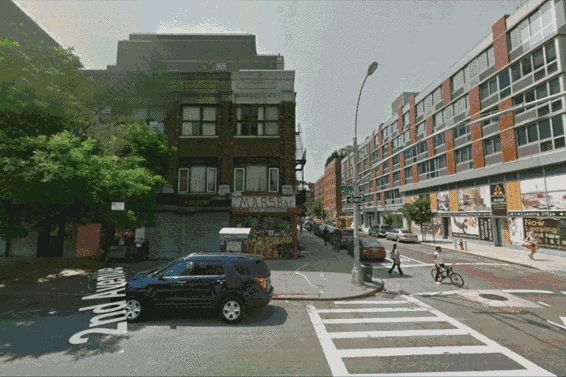 "This one is compelling because of the controversy surrounding the specific location and the developers' attempts to create affordable housing for people who would be displaced," said Blinder. "That the resulting building is named Jupiter 31, an homage to the Mars Bar, is really fascinating. But what you're looking at: Is it actual gentrification?"
"It seemed fairly successful compared to other promises of affordable housing. Most of these are decontextualized so there's no real background unless you know about them from living in New York or do[ing] some research."
91-93 Bowery, Manhattan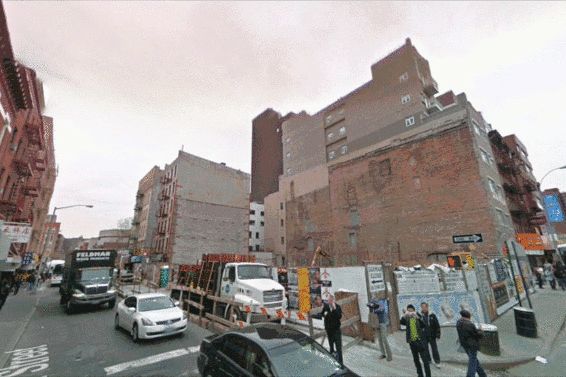 "This corner was the original location of the Music Palace theater, a historical location. Now it's the Wyndham Gardens hotel. But the before image is just this vacant lot, which decontexualizes everything," said Blinder. "The history of the Music Palace theater isn't in the image, but you can really see the transformation of the block."
7 Clermont Ave., Brooklyn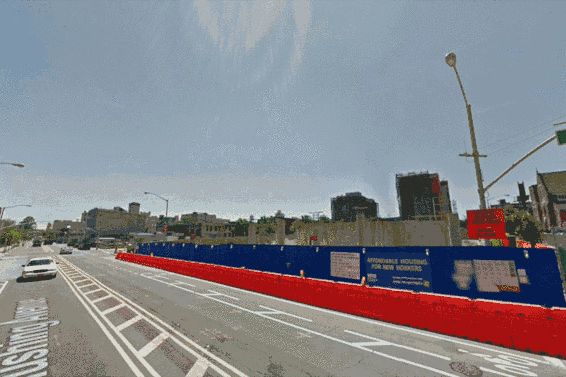 "It depicts the construction of the Navy Green project, a mixed-use development that plans to offer affordable housing, amongst other services. The location is the previous site of an old naval prison opposite the Brooklyn Navy Yards. Given that it's wedged between rapidly gentrifying Williamsburg and DUMBO, it'll be interesting to see how this area will continue to develop, and how the influx of new residents will effect the existing community."
190 India Street, Brooklyn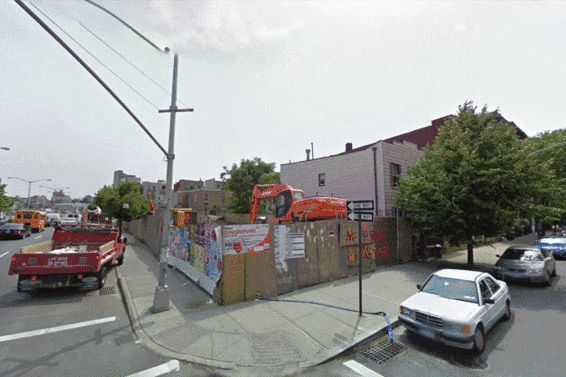 "This one is really compelling because it's the transformation of an entire block," said Blinder. "The developer bought up numerous addresses and transformed them into a single condo."
It also happens to be the Greenpoint street Girls' Hannah Horvath calls home. Go figure.