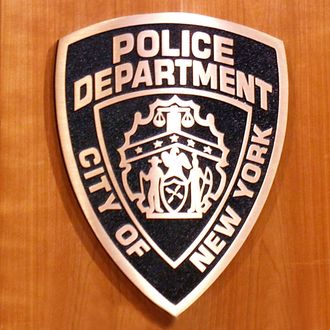 Photo: Spencer Platt/Getty Images
An NYPD officer who just graduated from the police academy in December was shot three times on Wednesday evening while trying to arrest a fare beater on a bus in Crown Heights. James Li, 26, and his partner, Randy Chow, 30, removed two men from a B46 bus on Utica Avenue around 5 p.m. after seeing them board through the back door without paying. Police say one of the men, 28-year-old Rashaun Robinson, bolted, and as the officers gave chase, he turned and fired three times, hitting Officer Li in the left thigh, right thigh, and groin. 
Both officers returned fire, but Robinson wasn't hit. Officer Chow continued chasing him and radioed for help as two bystanders who happened to be off-duty EMTs tended to Li. Officers arrested Robinson, who was armed with a .45 caliber handgun, in an apartment building at 445 Schenectady Avenue. He has been arrested six times, and there was an active warrant for his arrest in Lebanon, Pennsylvania for making and selling drugs.
Mayor Bill de Blasio and Police Commissioner Bill Bratton held a press conference at Kings County Hospital Center on Wednesday evening, where Li is listed in stable condition. The officers were assigned to the area as part of Operation Impact, a program that puts rookies in high-crime areas, which Bratton intends to reform.
Li, who's expected to recover, is the first NYPD officer shot during the De Blasio administration. "They did everything a good cop does, and they've only been on the job for a few months," De Blasio said of Li and Chow. "Yet, they responded like seasoned veterans. It is something that we as New Yorkers should be very, very proud of."