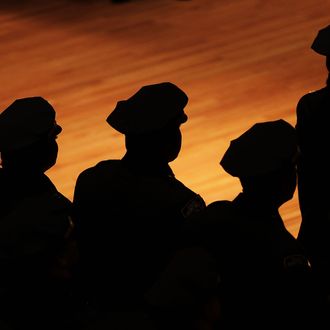 Photo: Spencer Platt/Spencer Platt/Getty Images
The family of a Queens woman butchered along with her two daughters last month has accused the NYPD of failing to translate two domestic-incident reports she filed about her husband, who has been charged with the murders. Police sources tell the Post that after Deisy Garcia called police to her Jamaica apartment in May and accused her husband, Miguel Mejia-Ramos, of assaulting her, she filled out the state-mandated domestic-incident report. Though the form includes instructions in both English and Spanish, the report in which Garcia said, in Spanish, that she feared her husband would kill her and their two girls was never translated.
Garcia called 911 and filed a second report in November, but didn't say she worried Mejia-Ramos would kill her. Sources say both reports were only translated after Garcia and her daughters, who were 2 and 1, were found stabbed to death in their home on Jan. 18. Mejia-Ramos, an undocumented immigrant from Mexico, was caught two days later in Texas headed toward the border. According to documents released by prosecutors, he confessed to killing his wife in a jealous rage, and said he killed his daughters to spare them. "I was going to take them with me," Mejia-Ramos told detectives. "But I didn't have car seats."
"I know she contacted them and told them he kicked her and abused her, but the police told her they needed to see proof of the abuse. They told her there was no evidence and left it at that," said Luzmina Alvarado, Garcia's mother. "I told the cops, 'Now that my daughter is dead, you're hunting for this man like dogs, but if you did more earlier — if you had listened to my daughter — she might be alive today.'"
An NYPD rep said the family's claims are "under internal review," and police sources say they've been reminded that it's NYPD policy to translate all reports into English. The department is also said to be looking into software that would translate reports automatically, though anyone with access to the Internet has had access to that technology for some time now.